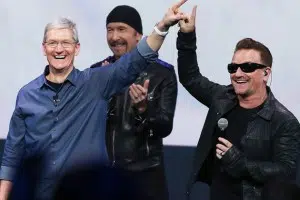 U2 shocked fans everywhere yesterday afternoon when they released their new album, completely for free. Its now being speculated that this may be because of the illegal download era we live in. Music Industry Arts  professor Micheal Roth sat down with XFM to give his professional opinion on what this could mean for U2 and also artists trying to make a name for themselves.
"It makes total business sense on a lot of levels, for Apple to be associated with one of the greatest bands in history. Its a great way for U2 to launch a new album and get people aware that they have a new album out. But its a block buster move." says Roth.
He goes on to explain that  up and coming artists will now feel pessimistic, because they may never get that opportunity. "Apple couldn't care less if some little band from Stratford said they wanted to give their record away to 500 million people. Apples response would be thanks anyways."
He also adds that this plan might backfire on U2 when it comes to album sales, but they wont care because they are now a live act much like the Rolling Stones.