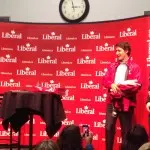 Liberal Leader Justin Trudeau stopped and talked to students at Fanshawe College.
Trudeau outlined some of his plans and ideas  if he's elected as Prime Minister. Trudeau says student voting turnout is important to Canada's growth.
Students had different reactions to Trudeau's speech.
"I've found unlike other people I talked to in different parties, he actually answered a lot of the questions. He didn't just dodged around answers. He said this what we're going to do, this is why we are going to do it and this is how."
An other girl says she couldn't stop listening.
"He was stating how of lot the elections, the parties try to fight in order to win and he's more welcome to listening to Canadians.
An other student who attended the speech feels he missed some key topics.
"I just wished they got more into the fundamental of being a human being in Canada and less of the social aspect. Like talking more about energy and fresh water in the Great Lakes."
Fanshawe Student Union President Matt Stewart says he's glad the students had an opportunity to listen to some of his speech and thinks it's important for leaders to speak to schools across the country.
"It's only ever going to be a benefit. We have to create a better student voting turnout and whether be federal, provincial and municipal.
Stewart adds he is getting positive feedback about having leaders visit the school.
"I don't think it will ever go in vain. I think every student know they have the right to vote and for us bringing in political parties and leader and it's only to benefit students. They've been gracious for us doing that."
The 42 provincial election is scheduled for October 19, 2015.
Here's a clip of Trudeau expressing that everyone needs to work together to grow Canada.
Listen to Trudeau's interview with XFM News below: