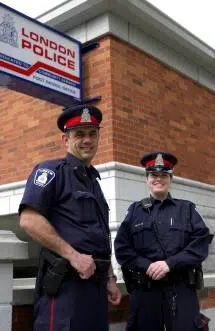 London Police Services are promoting the effectiveness of their Community Foot Patrol Unit.
Over the past few years the Unit has seen increased production and effectiveness, strengthened relationships with locals, community partners and stake holders, and are now the "go to" Unit when looking to identify a suspect.
"If you look in the core area, all the business owners know our foot patrol officers on a first name basis. We equip our officers with cellphones so business owners will call directly to the cellphone of the officer that's working, which means the response is immediate rather then having to wait to contact through our communication section. Its a very strong level of report." said Brad Duncan, Chief of Police.
London Police Services plan to implement more foot patrol officers in the downtown core if the city decides to make it more pedestrian friendly or infill the area so there is less vehicular activity. This would be important because if there is less vehicular activity the visibility of police cruisers would significantly drop, which is where the foot patrol unit comes in.
Western University and Fanshawe College are following in their footsteps by adding more bike patrols.
"Campuses are large areas so the bicycle is a perfect way to get into parts that you wouldn't be able to reach in a cruiser. I think the students really appreciate it, its another sense of security when you see a bicycle patrol officer and that viability is really important. It also assists us because we don't have to spend the resources there, so its the university and the College that recognize that safe campuses are important and they've undertaken to do that using bicycle and foot patrol." said Duncan.
The Community Foot Patrol Unit is also involved in a number of operations, one of which focuses on nabbing bike thieves.