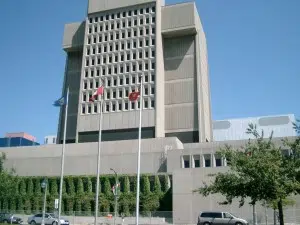 "I just held him there because I didn't know what else to do."
Yasin Amir's recounting of the events of December 26-27, 2011 took centre stage in a murder trial in London. Drai O'Hara-Salmon and Jermaine Phillips have pleaded not guilty of first-degree murder in the shooting death of Said Hadbai.
Amir says that Hadbai was his best friend. The two were joined by another friend at Jack's on the night of December 26. Amir testifies that they first saw O'Hara-Salmon outside the bar and that the tension between Hadbai and O'Hara-Salmon grew from there.
The issue between the two stems from their shared affection for the same woman, Brittney Knowles, who testified last week. She was Hadbai's girlfriend for a number of years, but O'Hara-Salmon was also in the picture at times.
Amir testified that he and his friends wanted no trouble that night, but O'Hara-Salmon was growing more irritated by the presence of Hadbai. Amir says that he tried to play mediator that night, but grew worried that O'Hara-Salmon might have a gun.
"I don't fight n****s, I shoot them," O'Hara-Salmon allegedly said.
O'Hara-Salmon tried to convince Hadbai to fight in a back alley. Amir convinced them that they should fight in a parking lot where people would be around so that a gun would be less likely to be used.
"The two had taken their jackets off, like they were about to fight one-on-one. There was a crowd there, and all of a sudden you just hear footsteps coming. Jermaine comes out of the crowd, kneels down and shoots Said right in the chest," Amir testified.
When asked what Hadbai was wearing as Amir held him in his arms, he struggled to recollect, even shedding a few tears, which led Hadbai's mother to break down in the crowd.
Amir will take the stand again Tuesday, with cross-examination to take place later in the day.