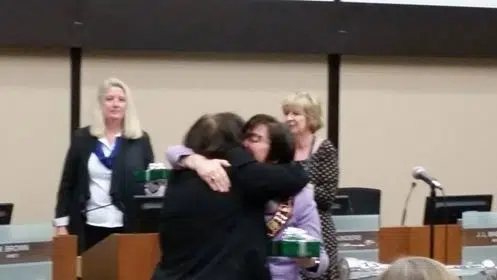 Our council has just seen their last council meeting. All 14 councillors and the mayor showed up as the majority of the meeting went towards speeches. Each departing councillor did give a speech where a lot of thanks was given towards the staff, their colleagues and the city. Most congratulated Matt Brown on becoming the new mayor as well as the new council that is set to come in. Matt Brown said he did make friends from this last council.
"When you spend four years with a group of people in such intense situations you can't help but form bonds and form relationships."
At lot of laughs were shared from jokes being said to just about everyone in the room. Departing Councillor Dale Henderson still believes that all the leaving councillors should get severance packages.
"This is not a part time job. This is a full time job, this is a billion dollar operation and you can't do It part time"
But Dale and everyone else had a smile on their face as each received a gift. As soon as council was adjourned and a huge applause erupted for everyone the councillors and the staff.
Councillors who are leaving include: Bud Polhill, Joe Swan, Stephen Orser, Russell Monteith, Nancy Branscombe, Dale Henderson, Paul Van Meerbergen, Denise Brown, Judy Bryant, Sandy White and Joni Baechler.