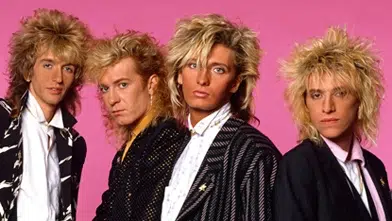 Almost 30 year's after topping the charts in Canada, Platinum Blonde will ring in the new year in London.
The 80's glam rock band from Toronto is headlining the city's New Year's Eve festivities. The group disbanded in 1990 before making a return in 2010. Some of their hits include "Standing in the Dark", "Doesn't Really Matter", and "Crying Over You", which hit #1 on the Canadian charts in 1985.
Other activities at Victoria Park include free skating and hot beverages for the kids, a Frozen-themed performance, and a fireworks display. London West MP Ed Holder is excited about this year's lineup.
"It's family, fun, and free. We wanted to give something back to Londoners. It's a special night when we as family come together for this special evening as we celebrate going forward into 2015."
Admission is free and the festivities kick off around 7PM.
Full lineup of events at Victoria Park:
As it gets dark: Free family skating at ice pad, complimentary hot chocolate and coffee
7PM: My Perfect Princess Party presenting "Queen Elsa and Princess Anna"
8PM: Performance by Rise to Fame singers from Western Fair District
9PM: Fireworks for the kids atop City Hall
10PM: Hangar 18 performs
11PM: Platinum Blonde performs, followed by fireworks at midnight from atop City Hall