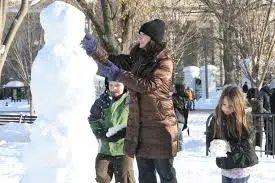 As extreme weather alerts have been issued across Southwestern Ontario, and Londoners are experiencing bone chilling temperatures, bundling up in warm clothing is crucial this week.
"Once we see the temperatures drop, we see all kinds of challenges in the community- from paying utility bills for individuals who are having a hard time making ends meet, to families having a hard time getting warm boots and warm clothing on their kids", says Communications Director Kelly Ziegner at United Way London.
The United Way London and many of it's associated agencies, are looking for monetary donations as well as warm coats and boots.
Due to these dangerously cold temperatures, Ziegner adds that there is an increased need for warm children's attire with the return of students going back to school from the break : " For the last couple of weeks, people have been at home and kids haven't had to go out and walk to school in the cold- it hasn't been as much of an issue".
If you are in need of help, United Way London reminds people that you can dial '211' for 24/7 services and resources.
Frosty Arctic temperatures have also moved into Alberta, Saskatchewan and Manitoba, and are moving towards Quebec and New Brunswick.
The cold weather has been affecting most of the country, as Edmonton has been getting temperatures feeling like -30 with the wind chill and Thunder Bay feeling like -43 this week.