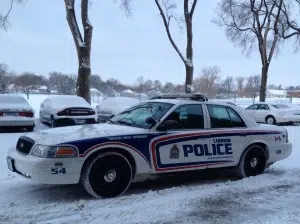 London Police say a lengthy graffiti  investigation has resulted in an arrest and more charges could be laid.
Officers say between August 2014 and December 2014, members of the Community Oriented Response Unit noticed an increase in graffiti in relation to the blog websites.
Some of the areas that were tagged includes a sidewalk, parking lots, and on the side of buildings.
On Tuesday a search warrant was executed at a Simcoe Street residence. Where officers say they seized:
– Markers
– Paint cans
– Spray paint
As a result of the investigation, London Police have charged 46-year-old Kerry James Linker of London with 14 counts of mischief under $5000, contrary to section 430(4) of the Criminal Code of Canada.
Kerry Linker has been released from custody and is scheduled to appear in court February 19, 2015.
London Police say the investigation is on-going and more charges could be laid.
Police are urging anyone with information to contact them or Crime Stoppers.