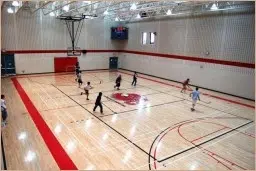 Fanshawe College is entering the New Year, which means the athletic department is readying up for a fresh slate of recreational leagues and activities.
Joining a rec league is a great way to get some exercise while having fun, and an excellent way to meet new people.
Some of the different activities students can participate in include; ball hockey, ice hockey, volley-ball, basketball, table tennis, cricket, and new to the college this year- dodge ball.
"Just come to athletics where you can fill out a form, you can sign up as a team, or as an individual where i'll put you on a team. It's free, all covered with your student card, so whether you just want to sign out a ball and shoot some hoops on your own, or if you want to play in organized activities, just come to J-1034." said Jackie Corbie, Campus Recreation Athletic Officer at Fanshawe College.
Fanshawe is set to host the Ontario challenge cup for cricket in March, which will see colleges from around the province compete. However, the most popular league is ball hockey, where Corbie says roughly forty teams per year join in the fun.