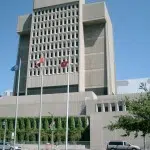 A first-degree murder trial that began in November has reached its final stages.
Justice Andrew Goodman has charged the 12-member jury in the trial of Drai O'Hara-Salmon and Jermaine Phillips. The jury is now deliberating verdicts.
O'Hara-Salmon and Phillips have been charged with first-degree murder in the shooting death of Said Hadbai on December 27, 2011. Phillips also faces a charge of possession of a loaded prohibited firearm. Both men have pleaded not guilty to all charges.
The jury has heard from Phillips, who has admitted to shooting Hadbai but says he did so in self-defense. The defense has argued that Hadbai had a knife as he prepared to engage in a fistfight with O'Hara-Salmon, and fearing for his friends safety, Phillips fired a single shot from a sawed-off shotgun into Hadbai's chest.
Crown Attorney Peter Rollings has called the defense's argument a complete fabrication.
The crown's argument is that Hadbai had been shot over a bizarre love triangle. Hadbai and O'Hara-Salmon had both dated the same girl.
The two men met up in Jack's on Dec. 26, 2011, argued in the bar where the Crown says O'Hara-Salmon said, "I don't fight n****s, I shoot them."
A text message was sent to Phillips to "Bring the thing. K.P. is here," which Rollings says was an indication to Phillips to retrieve his gun and meet O'Hara-Salmon at the bar. The girlfriend of Phillips testified she saw him remove the gun from a duffle bag.
The jury has seen evidence that Hadbai had been in possession of a knife, but there is no proof that it had ever been in his hand to be used as a weapon.
The jurors had questions surrounding the state of mind for murder this morning, asking Justice Goodman that, if they had determined that one of the accused had met the threshold for the required state of mind for murder, does the other accused automatically have the same state of mind.
Goodman answered that they much debate each man's state of mind separately.
The jurors have heard testimonies from 38 witnesses on 32 days of proceedings and have been sequestered until they arrive at a unanimous decision.