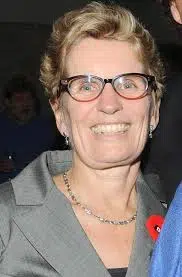 The Ontario Premier made a stop at Western University today apart of her tour of post secondary institutions across the province
Kathleen Wynne is stopping at many universities across the province to get a first hand talk with students to hear what their concerns are and what can be improved in post secondary.
Wynne tells XFM News they are hoping to increase accessibility of post secondary education to every Ontario resident.
The Premier says one grant that is in place – the 30 per cent off tuition meant that two hundred and thirty thousand more students were able to access post secondary this year alone.
Wynne says when they came into office in 2003 there were no grants just loans for students so they have done a lot for students and will continue doing so.
Wynne says while touring post secondary institutions she has seen many things she would like to expand to other places.
While at Western this morning she visited the active learning classroom and saw terrific use of technology and different ways of engaging the students and saw a similar thing touring MacMaster Yesterday but with a much larger classroom with a very interactive and collaborative lecture
Wynne says she is very eagar about having more hands on teaching into this level of education and hoping to bring in more Mental Health Resources and supports into schools.
Experience Ontario is a new program in place that will allow students when they graduate high school to work for a year and have the opportunity to have a placement before going to College or university and give students the opportunity to see what they want to do.
Wynne notes we have to be clearer in High School about what the possible pathways are as you can graduate from University than go back to college or the other way around.
Youth Employment strategy came into place last year and matches graduates or young people who haven't been able to find work to employers Wynne notes the majority of the people in this program have been able to find them selves a job.
Wynne says the job they need to do now is ensure there is more opportunities for young people to get work experience and work with employers to provide that.
Along with Wynne on the tour London North MPP Deb Mathews accompanied her along with Minister Reza Moridi.
Mathews says they are going through every single program that the government offers to make sure we are getting the very best dollar for every dollar we are spending.
Mathews notes they want more kids to get better  post secondary education and everyone to achieve their best potential and need to ensure the government is putting money where they will get the best results
Minister Reza Moridi adds they are now in the process of making sure every young person in Ontario has access to post secondary education.
Minister Moridi says they are making sure access is there and the quality of education is there.