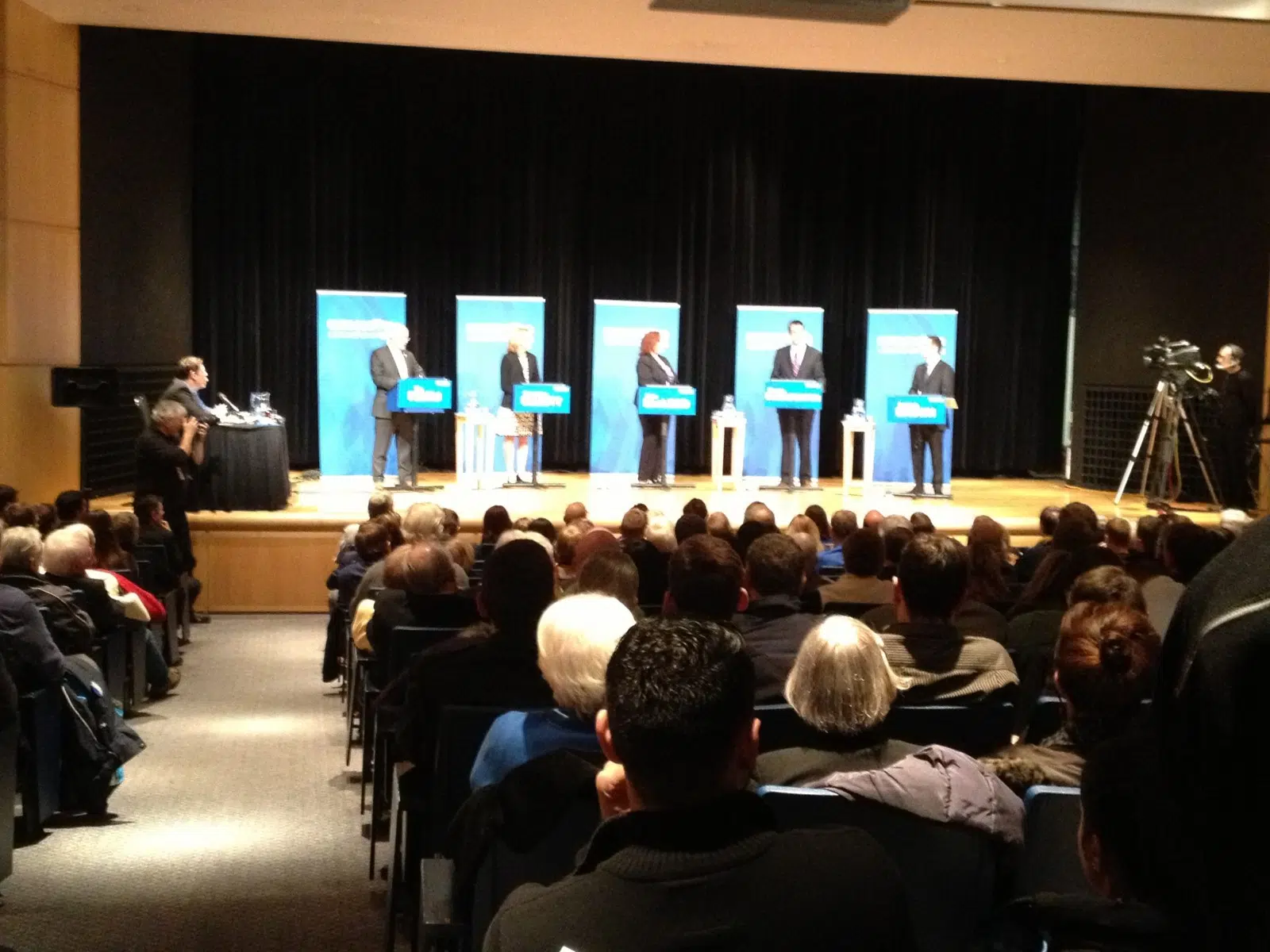 It was completely packed at the London Convention Center at the Ontario Conservative Leadership Debate last night as 5 hopeful leaders plead their case to be the new leader for the PCs. They touched on many subjects including job creation, wind mills, investing in mental health and getting energy levels down to enable companies to expand in Ontario instead of having to cross the border.
One other subject they touched on was having Conservatives stick together, even though they're competing against one another. That was all fine and dandy until Barrie's Patrick Brown, the candidate with arguably the loudest response all night, fired a shot directly at Christine Elliott, stating that one of the reasons that the Conservatives lost the last provincial election was because people don't trust the establishment of their party, from the ground up. Brown said that people weren't just looking at former leader Tim Hudak, but at Elliott as well, as she stood shoulder to shoulder with Hudak as they watched 100,000 job cuts in Ontario.
"(Voters) wanted a better option (than the Liberals). They looked at the NDP, they certainly didn't find it there. They looked at the PC party of Ontario, but let's be honest with ourselves, they didn't just look at Tim Hudak, they looked at the entire establishment of our party. They looked at you Christine, our deputy leader, standing shoulder to shoulder with Tim Hudak and the 100,000 job cuts. They chose Kathleen Wynne over you."
The crowd, clearly caught off guard with a violent shot coming in an otherwise peaceful debate, had mixed, and LOUD reactions to the statement. Elliott denied the allegation that she had known anything about the job cuts in her rebuttal.
"I'd like to start by dispelling Patrick's myth that I knew anything about the 100,000 job cuts, and let me say that neither I, or any of my caucus colleagues had any knowledge of it…"
During the media scrum, Brown backed up his decision to poke at his opposition. Below are three quotes that sum up his reasons.
"My goal is not to appease the establishment of the party that have run the party to the ground the last few elections."

"Frankly, they cost us an election that we should have won."

"I'm always going to have an honest conversation with party members."
It's unknown whether the next debate could see the gloves fly off again between the two, but we'll have to see when they get to Ottawa on February 11th.