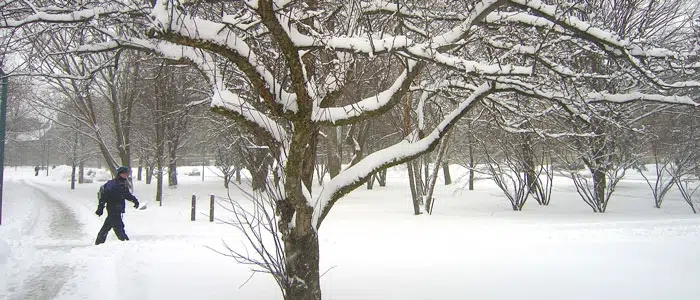 London received nearly 30cm of snow overnight and had many students in anticipation as to whether or not classes would be cancelled. However despite the snow, Western University and Fanshawe College will remain open throughout the day, running on regular class schedules.
As for transportation, LTC buses will run on regular schedules as well and the city is working throughout the day to keep both routes and sidewalks clear.
Keith Marnoch is the Director of Media Relations at Western. He says they started clearing campus since 1am this morning and will continue throughout the day.
"All of our parking lots and roadways have been plowed. We're working throughout the day with regards to clearing walkways and entrances to buildings and so on, and we're confident that we'll have that under control."
He adds that student and faculty have the ultimate decision as to whether or not it is safe enough for them to come in.
Deciding whether or not a university or college campus should remain opened or closed is a difficult decision. Marnoch adds that Western has many services people depend on and should not close completely unless absolutely necessary.
"In high school you say whether you're open or closed. We never really say we're closed here. What we would do if snow was enough of a problem, is that we would reduce services. That wasn't the case today, but Western is actually a rather large organization and classes are certainly an important part of what we do here on a daily basis, but its by no means the only activity on campus."