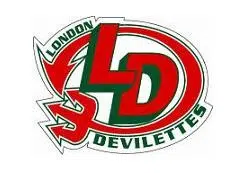 The sound of skates and hockey pucks sliding into nets will be echoing around the city this weekend.
The London Devilettes are hosting their 25th annual tournament that starts Friday and wraps up on Sunday. The women's hockey association has over 800 players from the ages of five up to 21.
The tournament is based at the Western Fair Sports Complex, and games will also be played at seven other arenas across the city.  The tournament is organized by a staff of over 40 volunteers, co-chaired for the first time this year by the wife-husband team of Kathy and Greg Strauss.
Over 2,900 people are coming to the tournament to either take part in the tournament or supporting their loved one or friend on the ice.
One of the tournament's organizers, Pete Ferguson, says teams are coming from all over to take part or watch the 25th annual tournament.
"This year, we have 169 teams. It's the largest we've ever put on and biggest tournament in town. There are ten teams coming from the U.S. including Chicago, St. Louis and Buffalo. Also numerous teams are coming from places in Michigan and around Ontario."
He says it's a great event for people to participate in or watch.
"When I was coaching hockey, girls as old as 13 or 14 wanted to try hockey. They never played hockey before. They maybe couldn't have skated as well, but with practice, they started to fit right in with the team."
Ferguson says some of the girls who played with the Devilettes before, eventually played hockey with a university off a scholarship or even played with Canada's National Team.
Feguson feels it's important to support the event because it allows girls to know they can play whatever sport they want, and not just think sports are for men. He says it's important that everyone feels welcome in whatever activity they want to participate in, whether it be sports, music, or any other activity.
All of the games are free to attend. The full schedule of the games and locations can be found on their website. The tournament's Twitter account will have results throughout the weekend.