A gym for toddlers in London is adding music to help their members develop.
The Little Gym, located in Sherwood Forest Mall, has begun instructing children in the Kindermusik program.
Mallory Marcoccia is one of the Kindermusik instructors at The Little Gym of London
She explains exactly how they mix the beautiful notes of music with the cognitive learning for newborns to five year old children.
"It's a program that creates and fosters a love for music for children at a very young age," says Marcoccia. "We are still working on our cognitive development, our social development, as well as our physical development."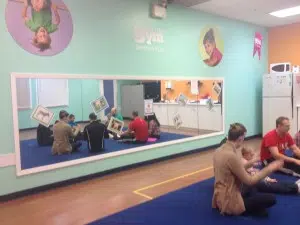 So how does the program actually work?
"We focus on enhancing listening skills and exploring and introducing instruments to children," says Marccocia.
Kindermusik sessions run for 45 minutes with a four week lesson plan on a common theme. Every four weeks, new material, music, and activities are introduced. Marcoccia says Kindermusik is tailored to every family's needs. She says the program provides children with more than just music skills.
"If a family is just looking for time to bond with their child, it provides them with that opportunity. For other parents who are starting their kids in school or daycare, it's a structured program that happens every week so the child gets used to routines and rituals," adds Marcoccia.
Owner of The Little Gym of London, Mari Hughes is a firm believer that just like the other programs offered at the gym, Kindermusik helps children build confidence.
"The Kindermusik class really helps build up children's language and confidence at a very young age, even before they can communicate," says Hughes. "Children understand and relate to music from birth basically."
Although the Little Gym of London works with children from four months to 12 years, the Kindermusik program is only for newborns to five year old kids.
Parents interested in the program are given one free session before signing up. For more information visit www.ltglondoncan.com.
Kindermusik at The Little Gym