Are you someone who is looking for the right pet. You might be having a tough choice, deciding on a dog, cat, rabbit or many more great and exciting animals. This decision will be one of the toughest of you life, so we don't want you to just flip a coin, we want you to have some time to think and decide what animal to get.
Giuliano  Caranci is one you could call an animal expert. He has pet hedgehogs, tortoises, and many parrots. He has species of birds no one else in the country has. He has some tips on different species and what may just be the right animal for you.
His favorite our birds. There beautiful creatures with a lot of color. Their exotic beings that can also talk if trained. Although he has the time to do so, we warns people that having a bird is like caring for a small kid.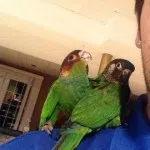 "People don't understand, there is a lot more than getting a bird just to talk, you need that time commitment, you need to make sure their happy, because if their not happy they won't even learn to talk."
It is hard work, but Caranci adds, the life span of a lot of birds are far greater than other animals, so you would have more time to spend with your pet.
Reptiles are also big, their cool and not a lot of people can say they have one. From lizards to snakes and everything in between, they're what you call easy to care for. Caranci encourages people who may have busy lives to try a reptile.
"Their cool, very very low maintenance. You could go away for a weekend as long as the lights are on a timer."
Now maybe exotic animals aren't for you. Maybe you yourself are a cat or dog person. We'll they are the most popular pets and for good reasons. Dogs are known for being man's best friend, while cats could be a even easier to care for rather than a reptile. The one thing Caranci does encourage is, doesn't matter what animal you get, think before doing so. Getting an animal takes time out of your life, as well as money. But when you do find that special partner, have fun and enjoy the ride together.