Are you someone who just say 50 Shades or Grey and now you want to try some new experiences. Well there are many places here in London that are hear to help. Like the Stag Shop, who own the rights to sell merchandise from the movie.
Stag shop manager at the Wellington location Alex Fife, says they have most of the items from the book.
"Every product that they use, it will come with a quote from the book where they used it, how they used it." 
They have seen tons of people come in from the movie and a lot more after the book came out. Its safe to say that the story has done wonders for Stag shops around the country.
"It's been nothing but a positive for us, some items like kegel balls have gone up 400 percent."
Now some people found the movie rather disgusting and just 2 hours of women abuse.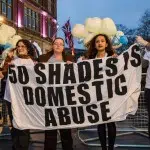 One of those is Megan Walker from the London women's abused center. She opened up a campaign called 50 dollars not 50 shades.
"The 50 dollars really represents the cost of going to the movie, including popcorn, parking and child care if needed."
She like many others doesn't like the fact that the movie glamorizes women's abuse. As Christian Grey shows abuse and domination towards Ana Steele for much of the movie.
"We're just asking people to think about that. Why is it that a movie that normalizes men's violence against women is considered entertaining."
Now the movie has brought out, fans and people who think the movie is just really, really, really disturbing. There are always two point of views and you definitely heard two for 50 shades of grey.