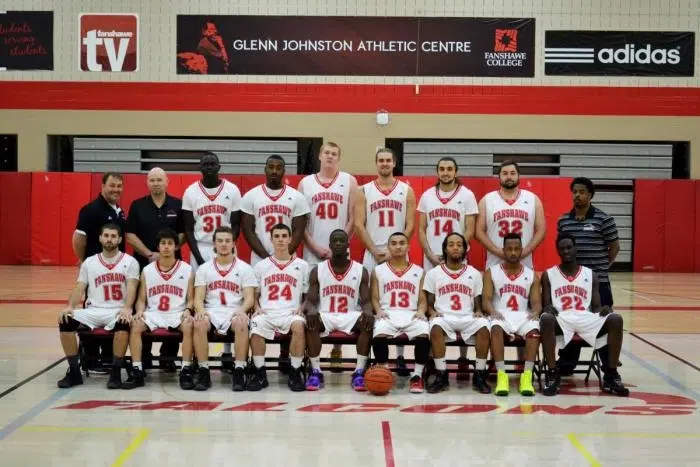 At the beginning of the season the Fanshawe Falcons Men's basketball team were on a roll. Finishing the first half of the regular season 8-1, with starting guard Chris Stanhope averaging 23 points per game. The Falcons showed that they were able to compete with the top teams in the league, especially beating the Humber Hawks who were ranked number 1 in the CCAA.
But coming off of the winter break the Falcons success started to decline, losing to the Hawks by 20 and also having an upset at Budweiser Gardens against the Lambton Lions. In the second half of the season the Falcons were 5-4. Adam Jespersen and Dante Holder, two key players for the Falcons success were out due to injury. Forcing the Falcons to find other options to win games. Finding other players to step up wasn't the main issue though, Head Coach Tony Marcotellio explained that the team focused on winning instead of playing the game and having fun.
With the success in the beginning of the season the team started to focus on keeping that winning record instead of playing the game naturally like they were doing. After regrouping before the end of the regular season, the Falcons were once again focus, being the Saint Clair Staints 73-58.
With the plays off now in action the Falcons had a good start beating the George Brown Huskies 81-71 in the first round. Entering the quarter finals the Falcons were up against a tough Georgian Grizzles team, it was a close game but the Falcons came out on top winning 76-73. Coming into the semi-finals the Falcons would have to face the Humber Hawks, a team they beat earlier in the season. Entering the game the Falcons were confident, they knew it was going to be a tough game but they were ready.
The Falcons played tough against the number 1 ranked Hawks but it wasn't enough as the Falcons lost 80-62. The Falcons had some highs and lows this season but overall they had a successful year. Finishing the season 13-5 the Falcons proved themselves as contenders in the OCAA and gained a lot of respect beating the tougher teams in the league like the Humber Hawks and Mohawk Mountaineers.