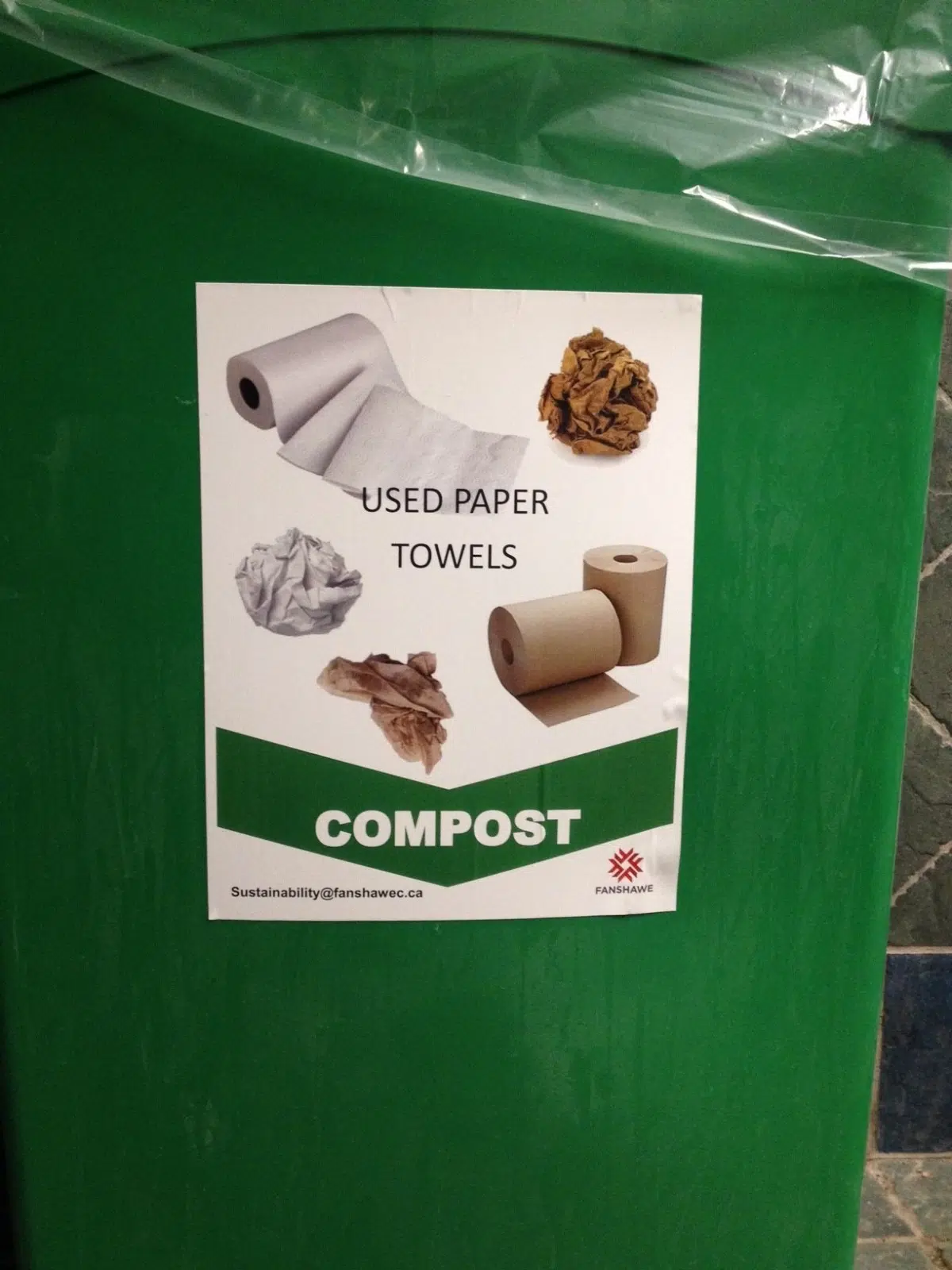 Fanshawe has recently upgraded its washroom trash cans to be more environmentally friendly.
Throughout the London campus, Fanshawe now has green bins in their washrooms and will compost paper towels and tissues. This type of waste has already exhausted its recyclable ability and therefore can only be thrown out or composted.
"Paper towels, napkins, toilet paper is the last stop for paper as far as recycling goes. So you can't recycle it any further. It's either landfill or other. For us, we are diverting it through composting." says Mary-Lee Townsend, Fanshawe's Sustainability Coordinator.
"Paper actually provides a significant source of energy for microorganisms as they're breaking down that organic material and turning it into compost."
Fanshawe took into consideration that some of the garbage in washrooms might include other material than paper towels. Townsend says that material will eventually get weeded out through the sorting process.
"If there is the odd bit of contamination that ends up there – because this is a large composting operation that's accepting this waste, all the stuff will eventually work its way out and be weeded out through the processing."
In Fanshawe's 2013-2014 waste audit, paper towel and tissues compromised 10% of the school's total waste to landfill. Since 90% of washroom garbage is a single source of paper towels, it is easy to divert to landfill and sort out the other 10% of garbage.
As well, the campus has placed visual signs on each of their garbage cans to show exactly what can be thrown in to each stream. Since people often take 5 seconds to decide what goes where, this visual cue has helped prevent contaminated waste streams.
Fanshawe is just over one week in to their green bin campaign and will monitor their progress before implementing the program to other regional campuses.
"I think a lot of people see it and they feel proud that Fanshawe's doing this."