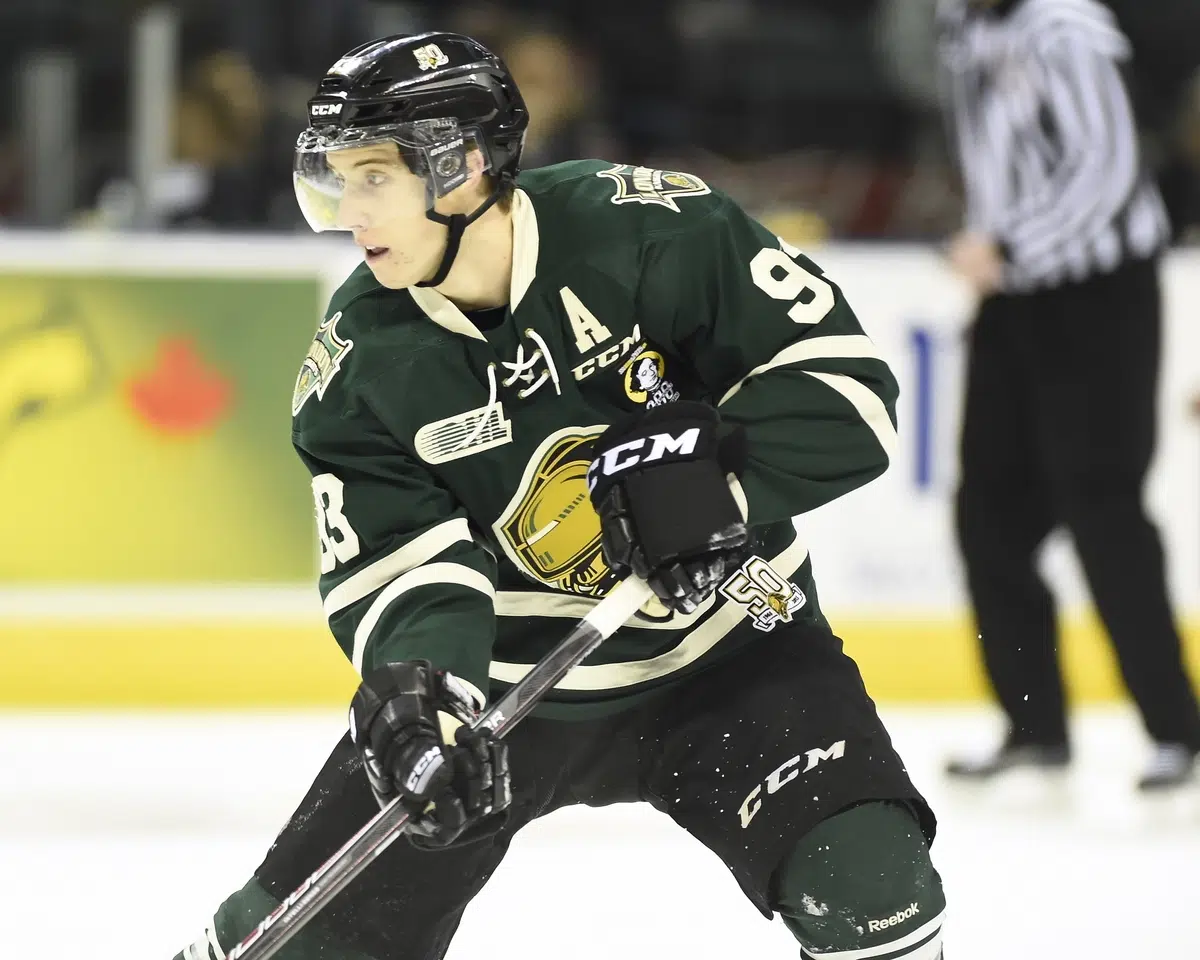 Even though the London Knights finished their season with an 8-6 win over the Saginaw Spirit on Friday, Knights star forward Mitch Marner's name was still buzzing on Sunday.
Sunday marked the last day of the OHL season, with the league scoring championship hanging in the balance. Marner headed into the day three points ahead of Erie Otter Dylan Strome.
To give you a little background to the story, Marner finished his season with a ridiculous 126 points in 63 games. Meanwhile, Strome (who had 121 points heading into Saturday) still had two games over the weekend to make up the five point gap that separated him and his fellow highly touted NHL Draft prospect in the scoring race.
On Saturday, Strome tallied a goal and added an assist to bring him within three points of Marner heading into the Otters final game of the season. If Strome could just muster up enough offense to score three points, he would at very least tie Marner and be crowned co-OHL scoring champ for the season.
But that wasn't nearly enough for the Mississauga native. He had no intention of sharing, or for that matter, keeping Knights fans happy.
Strome absolutely exploded for four goals, and two helpers in Erie's 8-7 comeback win over the Niagra IceDogs, thus crowning his the scoring king of the year.
Strome ended the season with a grand total of 129 points in a complete 68 game season.
The Knights ended the season with three of the OHL's top 10 scorers; Marner (2nd with 126 in 63),  Christian Dvorak (5th with 109 in 66), and captain Max Domi (9th with 102 in 57). This is the first time the Knights have had three top 10 scorers since the 2006-07 season, where Patrick Kane, Sergei Kostitsyn and Sam Gagner finished 1st, 3rd and 5th respectively.
This is also the first time in recent memory that the top three scorers in the league have all been in their draft year… seriously, ontariohockeyleague.com's stats page only goes back to the 1996-97 season, and this hasn't happened once in that time frame.
With Dylan Strome's scoring race victory we must keep in mind, had Mitch Marner not missed five games with injury, Marner would have (if he scored at his average rate of exactly two points per game) ended the season with 136 points, a comfortable lead over Strome.
But, with that you must also keep in mind that Strome's phenom teammate Connor McDavid missed 21 games with a combination of a broken hand, and a gold medal effort at the IIHF World Junior Championships. McDavid had a whopping 120 points in 47 games (2.64 Points per game), which put him on pace for nearly 180 points on the season (179.4 to be exact). He would have decimated his competition.
On a side note, Sidney Crosby (no need to explain who he is), had 168 points in 62 games in his draft year. That paced him for 184 points, had he played every game. Those are eerily similar stats to McDavid's.
So, if every player in the top 10 of the OHL scoring race were to play every game of the season, the scoring race would have theoretically finished;
1. McDavid – 180 points
2. Marner – 136 points
3. Strome – 129 points
4. Domi – 122 points (he also missed 11 games this season)
Keep in mind, Strome's numbers likely would have been higher, as his points-per-game average with McDavid in the line-up was much higher.
At the end of the day, Dylan Strome walks away with the OHL Scoring title for the 2014-15 season, and Mitch Marner finishes as a very respectable runner up in one of the most exciting scoring races in OHL history.
With McDavid as a lock to go first overall in the draft this year, we'll see how this, and playoff performances will alter Marner and Strome's draft ranking. The two players are neck and neck in most scouts rankings to go fourth and fifth overall in the draft (after McDavid, and American superstars-to-be Jack Eichel and Noah Hanifin).
The team who currently holds the fourth overall pick?
Here's a hint; it's the hometown and favourite team of both Marner and Strome.
Toronto.