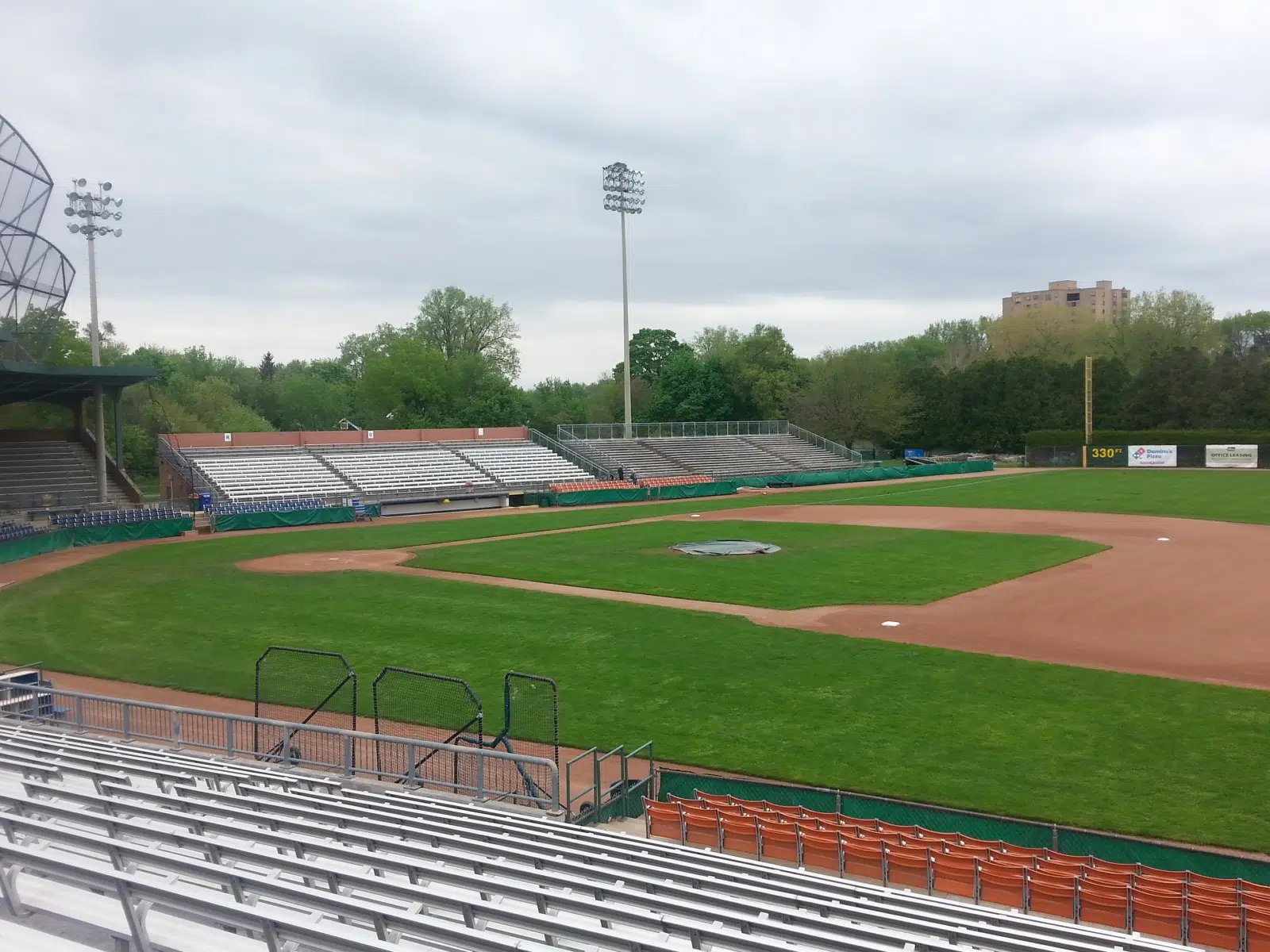 It's a season of fresh starts for the London Majors baseball club.
The Majors host the home opener for their 90th anniversary season against the Hamilton Cardinals at Labatt Memorial Park on Friday.
It marks a special occasion for the Majors, who are looking to bounce back from losing out on the Intercounty Baseball Crown last season to the Barrie Baycats.
With six of nine starters gone from last year's lineup, it's looking more like a season to start anew, and after a season opening 10-1 romp over the Burlington Bandits, that new feeling feels pretty good about now.
"I'm excited for all the new guys we have, and just seeing our work ethic so far," Majors' manager Roop Chanderdat says.
Chanderdat excitement stems from the club's transition from a power-hitting squad to one that relies on steady pitching and consistent defense. He personally doesn't feel it's meddled with the club's chances to field a very competitive team this season.
"Expectations every year are you want to win a championship," Chanderdat says.
"We just want to make sure when my team's on the field, we're working hard, playing the game the right way, and the fans can see that we're giving it our all, and we're putting our best effor forward to show the fans in the city of London that we can compete."
In regards to the significant changes to the lineup, Chanderdat feels the Majors carry a strong enough veteran presence to help with leadership and developing team chemistry.
"We've still got Cleveland Brownlee, Paul Lytwynec, Cody Mombourquette, some guys back from last year. Hopefully they can lead the way in terms of leadership."
Chanderdat feels that some young imports from Venezuela will provide the necessary stuff to carry the pitching staff.
"We've got three import pitchers," Chanderdat says. "We've got Luis Pena, a left handed pitcher that was with the Seattle Mariners,  then we've got Oscar Perez, a right hander who was with Boston, and another right hander, Luis Cabrera, he was with the Tampa Bay Rays."
With all that talent on pitching, and a convincing season opening win, it's not out of the question that the Majors could be a very competitive squad.
But for a squad that's finished second in the IBL standings each of the last four years, does this squad have the wherewithal to do what they've been unable to do in each of those years, and win an IBL championship crown?
Critics might not seem to think so, but Chanderdat feels that if his club plays its cards right, they could be a very dangerous contender.
"We've got to finish up strong, have a good solid season, and peak during the playoffs," Chanderdat says.
"It's a very strong league, and a lot of people are predicting us not to be a top team, but we'll play hard and see where the wins and losses fall."
It's a season of cleaning the slate off those second place finishes, and Chanderdat is hoping that sticking to fundamentals will help his club excel as a team and as individuals.
"I told the guys that the first half of the season, we're going to gain some experience," Chanderdat says.
"We've got guys who've played high level ball but they just haven't played in this league, once they get that experience, that'll help us going forward."
With a strong regular season, and a focus on development and chemistry, it will be interesting to see what lies ahead this season for the Majors.
The 10-1 win in Burlington certainly shows promise, but by seasons end all that will matter is whether they improved on last year's second place IBL finish.
In other words, if they don't make a good pitch for the crown this season, and even if they match last season, it will be one step forward, two steps back.
We'll get a better glimpse of what the Majors have to offer on Friday, when they host Hamilton to kick off their 90th anniversary season.
Here's the 2015 Home schedule for the London Majors.