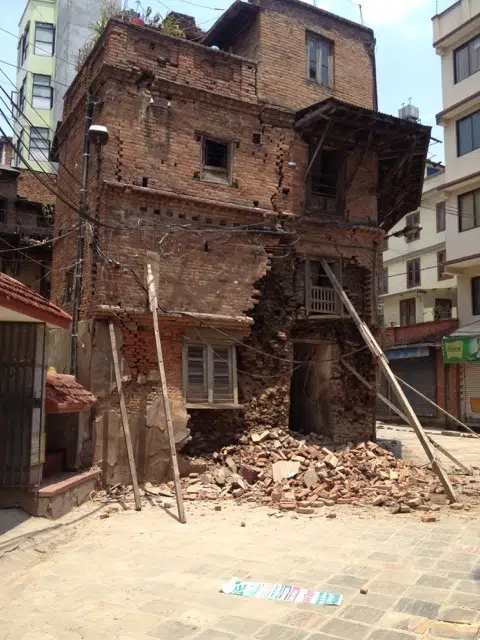 Ever since the first earthquake, Momos at the Market Owner Yam Gurung worked hard to raise money for Nepal. Overwhelmed by his dedication, and the help of others in the community, he has send $10,000 for earthquake relief. During his fundraising dinner for Nepal, Gurung said between 30-40 people helped out. Even when he told them he had more than enough volunteers, they still came for the night. "I didn't even realize how many people like to help."
Purple Moose Sock Company Owner Kevin Swalwell, has returned from his trip to Nepal with the Canadian Medical Assistance team.  They spent two weeks in a remote village  area in Balowa, nearby Gorkah. The team created a remote field hospital, and also had small teams visit villages that hadn't received medical treatment at the time.
"If had not have reached them, who knows what would have happened?" he said. As the Logistics Technician for the CMA, he could see how many people were grateful for the help. "A couple of a hundred 'Namastes' every day, you had to love that. You had to appreciate that and just the genuine appreciation for having Canadians there helping."
Both East London business owners spoke at the Aeolian Hall benefit concert. The venue has hosted such concerts since the earthquake in Haiti happened in 2010.
"I don't often have a chance to stop and think about those kinds of things," he said of Aeolian's benefit concerts, "It gives me a feeling of well being to have a cause, and to be able to contribute to community."
Andrew and Lisa Parrent visited Nepal two years ago. They reflected on how they felt when they saw the initial reports of the earthquake, expressing concern for the people they met there. "When you look at the news reel, and see a building you recognize, and a place that you've walked and the square that you've been in, and see the devastation that's occurred, it starts to hit home," said Andrew.
The benefit concert featured performances from members of the Colombian, Polish, and Nepalese communities, among many others. Marty Kolls and Yuri Pool of the McCartney Years also performed. There were many generous donations, which was especially seen with the dessert auction. Some of the desserts, including brownies, Nutella cheesecake, and mango cake, were auctioned off for more than $50. Lisa said some of her friends suggested that she and Andrew spend their evening at the concert.
"It's a way to kind of mingle tragedy with some good times too, and realize that there is hope."
Aeolian Hall announced on Twitter that they raised over $7,500.