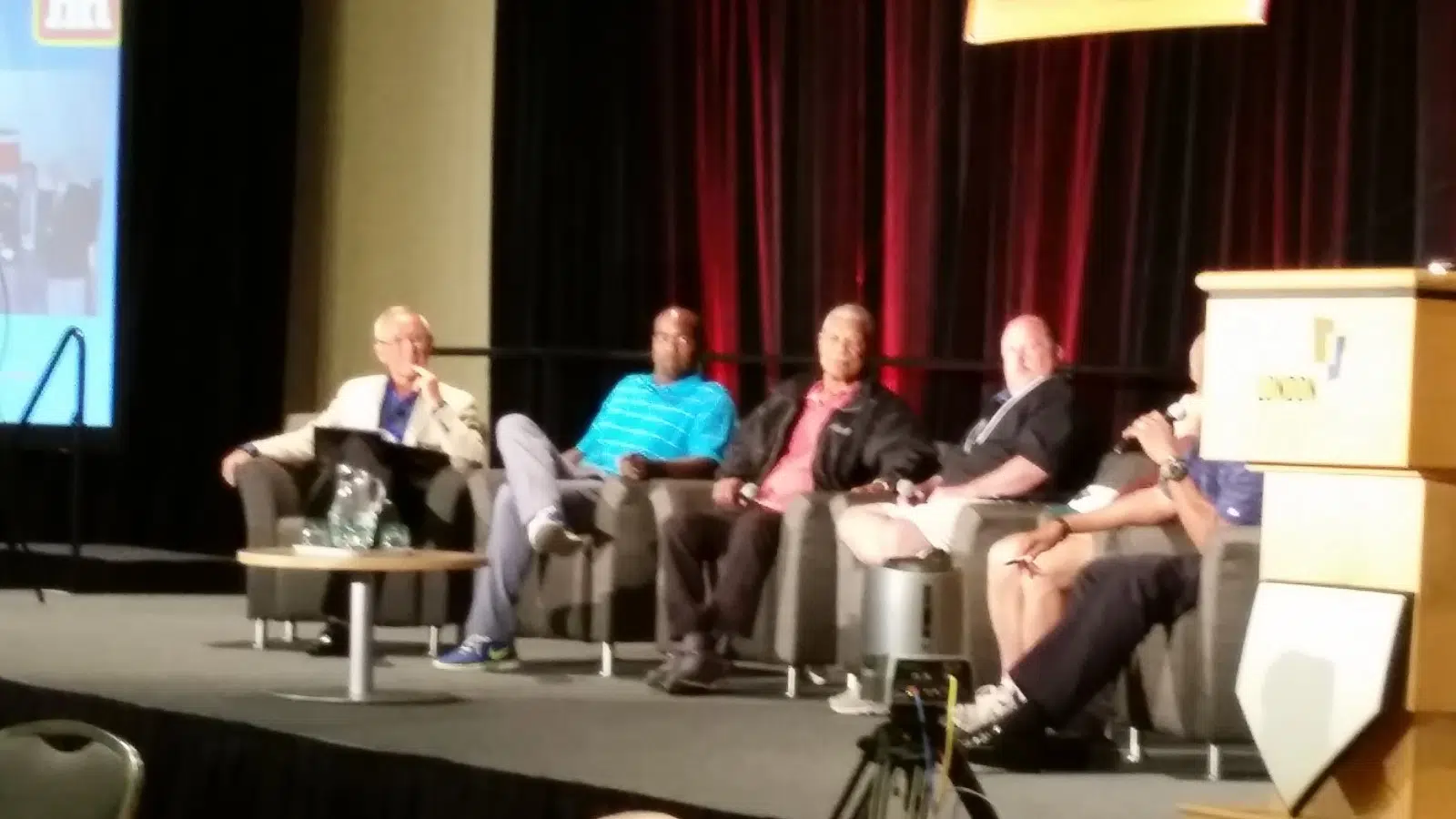 The class of 2015 for the Canadian Baseball Hall of Fame were in London.
The forest city held their fifth "Salute Canadian Baseball Breakfast" at the London Convention center. Held in front of a packed crowd who got an hour of listening to greats from the game of baseball relive their career and lives during.
Former Toronto Blue Jay Great Carlos Delgado was the last to get on the stage but not for his lack of talent. One of the very best offensive players in Blue Jays history, he holds countless records. When looking back at Toronto he says the city will always be a special place to him.
"Here I became a player, the fans were great to me, they made me feel at home and it was easier to make that transition(Born in Puerto Rico)."
Former Montreal Expo player and coach, Felipe Alou, holds the record for most wins as a coach in Expos history. He and his two brothers Matty and Jesus played long careers. Felipe's son Moises played a great career for 7 teams. Its easy to say the Alou family has a lot of talent. But looking back it was at its highest in Montreal which says he will always remember.
"I really enjoyed my time in Montreal, Montreal is my favorite city. I understood what a major league coach had to be, not only do you represent a baseball team you represent a city."
Corey Koskie had a good career, short but a good career. Playing primarily for the Minnesota Twins, he played one season in Milwaukee and another in Toronto. Only playing 9 seasons do to a career ending concussion he is happy to be inducted along side some greats.
"You look at my career numbers, they don't stand up anything near these guys so I'm just honored to be up here and be apart of this scenario. People thought enough of my career that they though I could be up here with the class."
Matt Stairs holds the record for most career pinch hit home runs with 23. He has also played for the most teams ever by one player. Playing for in order: Montreal Expos, Boston Red Sox, Oakland Athletics, Chicago Cubs, Milwaukee Brewers, Pittsburgh Pirates, Kansas City Royals, Texas Rangers, Detroit Tigers, Toronto Blue Jays, Philadelphia Phillies, San Diego Padres and Washington Nationals.
When asked exactly how it felt and what it meant to be apart of this he said "its everything."
"I figured the day would come, I was hoping the day would come, I never thought about it until the day I retired and when I got the phone call I haven't stopped smiling,"
Stairs mentioned his favorite moments was being a Blue Jay and being on Philadelphia's 2008 World Series Team.
The biggest moment happened when the best Canadian baseball player ever, Ferguson "Fergie" Jenkins, got on the stage which led to a standing ovation from the crowd. The member Cooperstown joined the new inductees of the Canadian Hall of Fame with a Q and A, reliving parts about his career and just simply how impressive it was.
The last person being inducted is sports writer Bob Elliott. He started writing baseball stories in Canada when the Expos had their home opener in 1978.
Before the Q and A everyone paid tribute to the late Jim Fanning who passed away in April. A moment of silence was given.
Saturday, June 12, the newest inductees will be inducted in St. Marys at 1pm. All our welcome as it is a free event.
London Convention Center Crowd
One of the Displays at the Breakfast