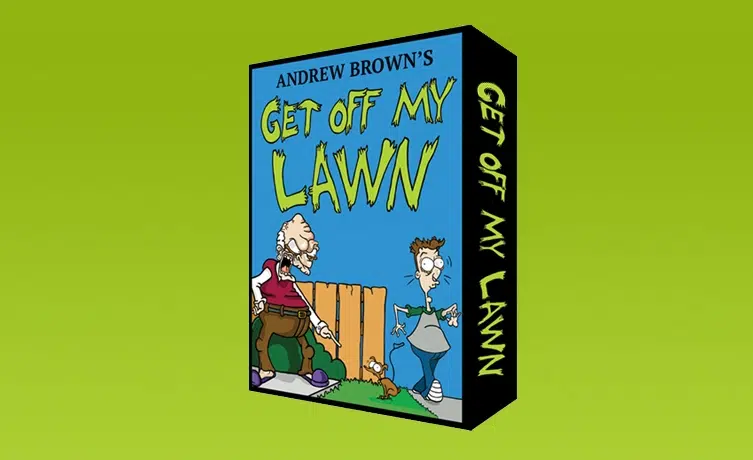 London is home to The Cardboard Cafè, just one of Canada's board game cafès. Toronto's Snakes and Lattes and Halifax's The Board Room are also joining in on the growing popularity of the pastime. Andrew Brown, who designed a board game called Get Off My Lawn said the demographic is people from their early 20s to mid-30s.
"They love board games, and they're the ones that have the money to spend it," he said, "You look at Halifax, and that's what you see." A board game fan himself, he said he prefers them to video games. "
Brown explained Get Off My Lawn has players decorating their lawns, and trying to ruin others. He compared it to Catan and Uno.
Brown said there are many ways to create a board game, and he used the theme first concept. He explained the first step in that process is coming up with a theme for the game, then designing it. Brown has been working on the game for about a year, but he added that it usually takes longer.
"I have friends that have been making board games for over five years. It takes them five years to make it, and then two years to publish it," he said, "My process has been a little bit faster because my game is simpler and  I have people to test with."
Brown added there are some challenges when designing a board game, but it all depends on the situation.While it wasn't tough for him to create the game, Brown said the aftermath has been hard, such as coming up with the logistics, finding a cheap place to print that doesn't decrease the quality, and finding enough people to play the game.
However, he said there are many ways to allow people to play your game: sending your friends a copy in the mail, bringing it to a board game cafè, and putting it online for people to print, also known as print and play. Tabletop Simulator also brings board games to the digital world, by letting players play them as if they were playing video games.
Brown advised to grab a team of fellow designers if you want to create a board game, and allow six to nine months for the testing period before publishing.
"If you do test your game, don't show people how to play it, don't even stand near, don't tell people it is your game, and watch and see what happens," he said, "My game wouldn't be the game it was today if I was sitting there dictating how it worked."
Get Off My Lawn has a Kickstarter campaign, to reduce the costs of the game itself. Nearly $3,000 has been donated as of July 2nd, 2015. Brown was able to reduce the cost from $30 to $15.