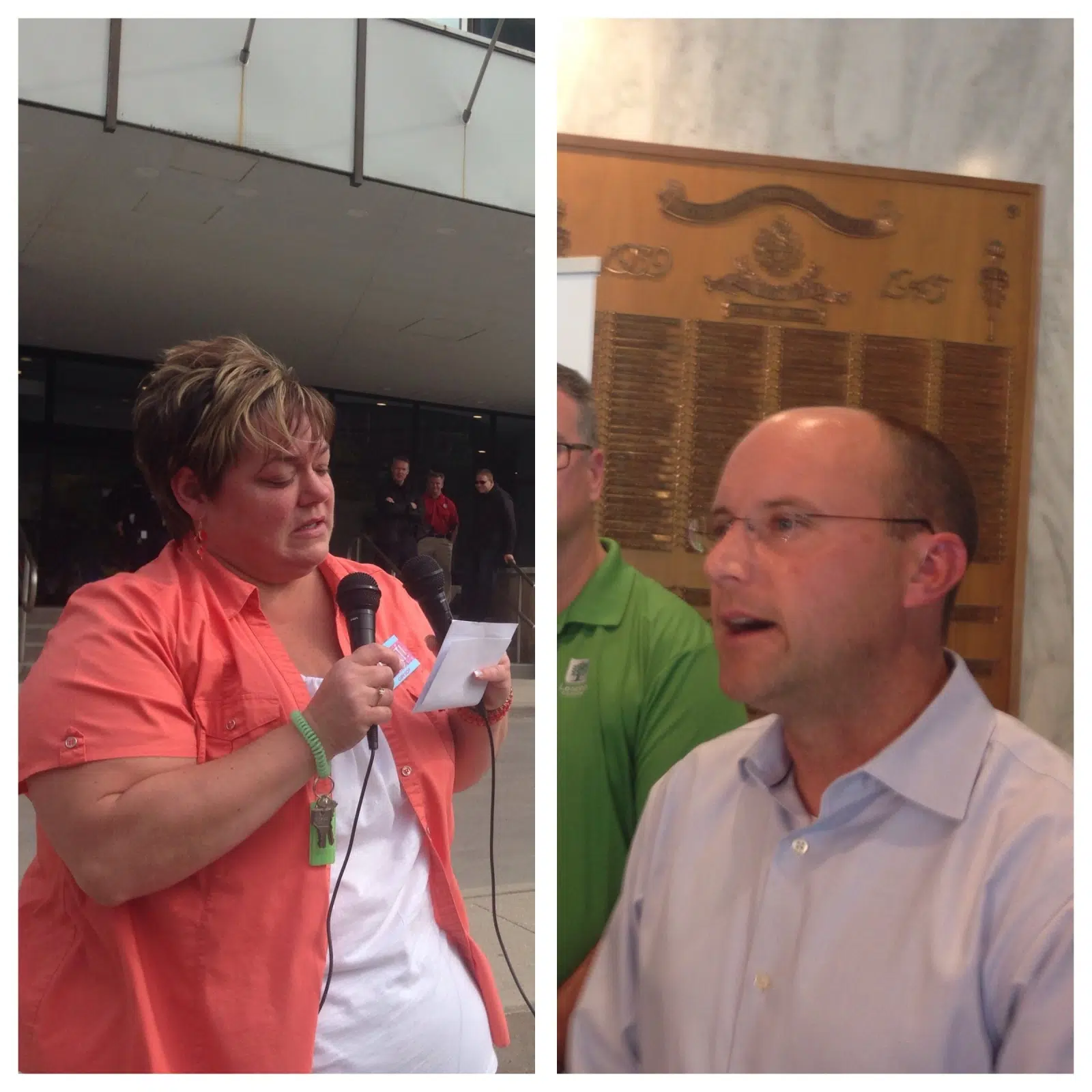 The City is now giving their point of view as the latest talks with CUPE Local 101 broke down.
The Union says the reason they left the table was because the City added new amendments.
Mayor Matt Brown says CUPE surprised the City negotiating team by stating talks had collapsed Monday afternoon.
"I am disappointed. Council is disappointed. Londoners are disappointed. And I am sure our employees on the picket line are disappointed. The reality is this: expensive advertising campaigns aren't going to bring our employees back to work. Only serious discussions will accomplish that."
Mayor Brown says he wants the employees back.
"Let me be very clear: the City wants its employees back to work and I believe we have moved significantly on our most recent offer to the union."
The City's offer includes permanent wages increases of 1%, 1%, 1% and 1.1% over four years ("City Manager Art Zuidema says the average Local 101 employee earns more than $58,000 a year.
"We believe our wage increase is fair and responsible," says Zuidema.
Links:
The City also released some other details of what the offer includes:
Hours of work
The City's latest proposal amended its June 9 offer by reducing Saturday and Sunday hours to 8:30am to 4:30pm. They say proposing further changes could increase the number of part time and temporary CUPE 101 positions to cover Sunday hours.
The City has also proposed to delay the implementation of Sunday shifts until January 2017 and remaining shifts (Monday to Saturday) to January 2016. A weekend premium would apply to weekend work.
Job Evaluation
Under the current process, job evaluations are done by a joint management-union committee.  If the committee can't come to an agreement, the decision is referred to an arbitrator.  They say arbitrations can be lengthy and costly.  They says they're not proposing to eliminate joint job evaluation or access to arbitration. They do note that changes are being sought to the evaluation and arbitration processes to make them more timely and more financially sustainable.
Job Promotion
The City's proposal would allow the City to consider, when making a decision to promote, an applicant's education, training, work experience, ability and appraisal of past performance.  In the event that two or more applicants are relatively equal with respect to all of these factors, the position will go to the individual with the most seniority.
Early Retiree Benefits
The City says they remain committed to preserving early retiree benefits for current employees and eliminating them for future employee.
What side do you feel is being stubborn?
Poll closed: Jul. 13, 2015 @ 12:00 AM
CUPE Local 101 says they had intentions to get the strike settled. Significant moves were made Friday. Although, Navarroli says the City replied back to them with "a position much worse than can be expected."
"Our bargaining committee made significant moves on the outstanding issues in an attempt to reach a settlement even though the city has yet to produce a business plan to support any demonstrated need for the changes they are asking for," said Navarroli. "It is very clear the city does not want to see an end to this strike but seems more interested in provoking and escalating the dispute," Navarroli said.
CUPE Local 101 says they're currently considering all options that includes legal action.
"We are very disappointed to say the least that the city still has no intention to settle this strike. Instead of finding common ground for a tentative agreement, the city is escalating the situation by introducing new elements at this stage of the strike – it seems designed to make things go from bad to worse."
They say they're open for more discussions if the City is sincere in solving this strike.
The 750 inside city workers walked off the job on May 25th.