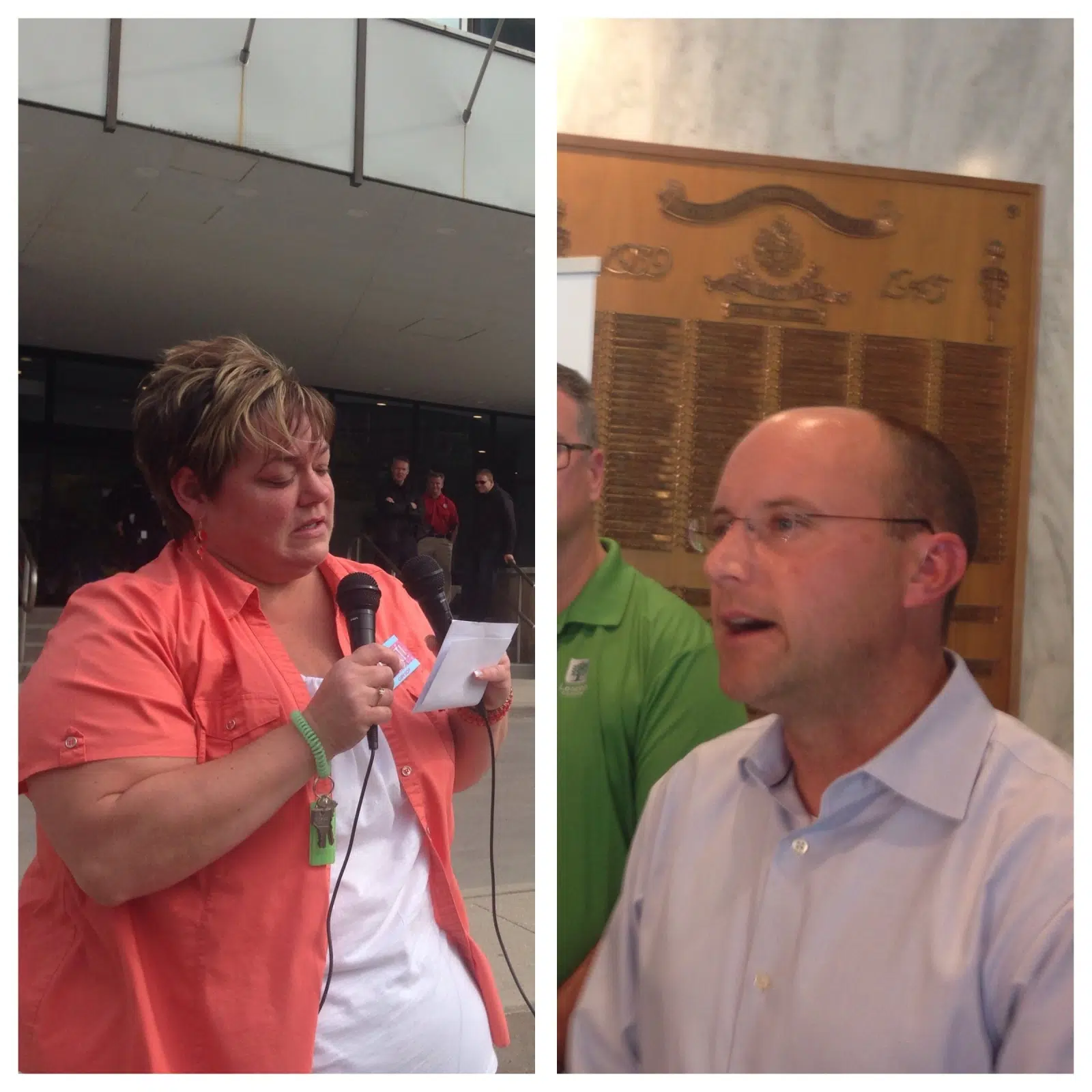 After eights weeks of walking the picket lines, CUPE Local 101's 750 inside city workers have a new deal.
CUPE Local 101 ratified the vote Wednesday afternoon while City Council did the same late Wednesday night.
"This has been a challenging time for our City, for our employees and for those management staff who were redeployed to help deliver important City services," Mayor Matt Brown said. "Today we've reached an agreement that is fair to all parties. It provides for wage increases in each of the four years. It allows the City to expand and improve service delivery beyond our traditional week day hours and also on Saturdays. It is also financially responsible and  sustainable."
"When the Union decided to take its members on strike on May 23rd, I said then, and I said repeatedly after, that it would take meaningful conversation and give and take from both sides to reach a settlement. I am pleased that we have reached that point and now our employees can come back to work," says Mayor Brown.
Flash Back:
CUPE Local 101 marks Day One of strike action
City responds as latest talks break down
City clarifies latest proposal to CUPE 
City and CUPE Local 101 reach tentative agreement
City Manager Art Zuidema says it took a lot of time and effort from both sides to get a deal done.
"This contract is the result of many hours, days and weeks of bargaining and required compromise from both parties to agree on a settlement that both sides endorsed and recommended to their principals. Ultimately, this agreement is about our ongoing and future work relationships with our employees, about the ability to improve and modernize service delivery to Londoners while being financially prudent, practical and responsible."
CUPE Local 101's Shelley Navarroli also gave a statement about the end of the strike.
"This has been a long and difficult strike for our members and their families and this afternoon our members voted to accept the tentative agreement so we could all go back to work and do what we do best – serving the residents of London," said,We want to thank the community for their support and patience during this two-month strike. Our members provide important public services and look forward to providing critical services that make London strong."
The new collective agreement contains wage increases of 4.75% over four years, and the contract will expire on December 31, 2018. "This contract would not have been possible without the full support of our membership," said Navarroli. "Together, we managed to push back a lot of contract take-aways that management was looking for. The new contract is vastly improved from the proposed contract tabled by the employer prior to the strike."
The new contract provides a wage increase of 1% in the first year and increases of 1.25% for each of the three remaining years.
It expands weekday service delivery hours from 7 a.m. to 8 p.m. and introduces Saturday service delivery hours from 8:30 AM to 4:30 PM.
The 750 inside city workers are expected to back on the job at the end of the week.
With files from Jaryn Vecchio
Mayor Matt Brown reacts to the contract being ratified by both sides.
Hundreds of workers gathered on Dufferin Street in front of City Hall to hear from their Union leader and CUPE Ontario's president.
Workers that are on strike wait for their leader to speak.
Workers on the picket line stopped people going into City Hall to tell them about the strike.
CUPE Ontario President, Fred Hahn (left) and CUPE Local 101 President Shelley Navarroli (right) talk to the members in front of City Hall.
Shelley Navarroli gets emotional because of all of the support they're getting on the first day of strike action.
Mayor Matt Brown announced the strike in a press conference on Saturday.