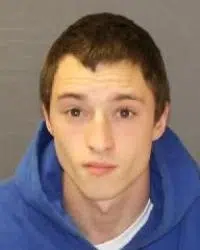 London Police the 19-year-old who escaped the Elgin-Middlesex Detention Centre has been captured.
They made the arrest along with the The ROPE (Repeat Offender Parole Enforcement) Squad and the Investigation Response Unit.
He was arrested Wednesday afternoon at a Centre Street residence.
Kunz escaped the prison on July 22 when it was reported that the inmate, Justin Kunz, was released from custody after he altered his appearance to look like his cellmate who was about to be released. It's alleged that Kunz threatened the cellmate to be quiet when the Correction Officer came for him.
Kunz had been in custody and is before the Courts for numerous offences including Possession of Firearms, Failing to Comply with Court Orders, Uttering Threats and Mischief.
Kunz was transported to London Police Headquarters and will be taken to court Thursday morning.