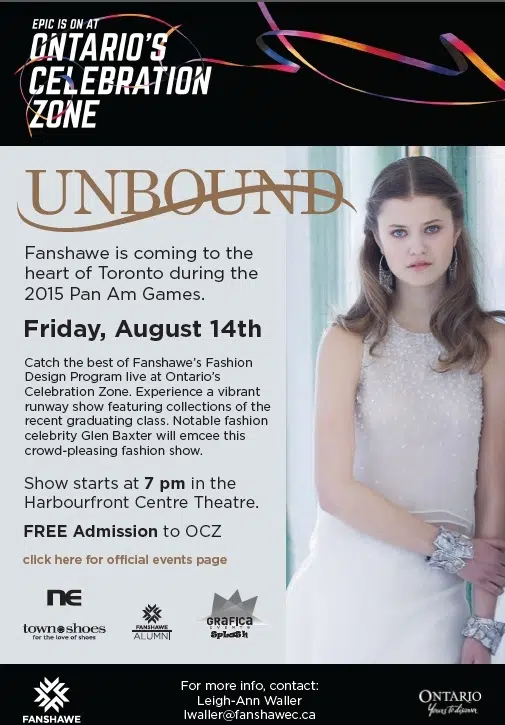 From the time the graduating Fashion Design students walk through the doors of Fanshawe College in September, they are busy preparing for their final project. The first semester consists of pre-planning, which involves scheduling, organizing committees, searching for sponsors, and creating posters. Third year students will then sketch their designs on paper, and choose their fabrics during a New York trip every January.
All of this leads up to a few more months of putting together Unbound, the annual year-end fashion show for the program, which will be showcased at the Parapan Am Games.
Leigh-Ann Waller, Coordinator of Fanshawe's Fashion Design program, explained the students have gone to Toronto before to show their work. They host a portfolio event in the city after the fashion show to meet with potential employers. "We've done a small fashion show there as well, but nothing as upscale as being on Queen's Quay at the Harbour Front Centre Theatre."
Waller said Toronto is well known for its fashion industry, and the event will give the aspiring designers a chance to emerge in a larger market than London. "We've got Richmond Row that has some nice high-end shops for women's wear. There's a couple of places here that do some manufacturing to give our students, if they're looking at their co-op placement, but there's not the vast array of types of jobs like there is in the Toronto area, or Montreal, or even Vancouver has some pretty good opportunities as well."
About 50 Fanshawe students from many programs, including Photography, Music Industry Arts (MIA), Advanced Filmmaking, Fashion Merchandising and, of course, Fashion Design, will bring Unbound to life.  Two MIA students, singer-songwriter Amelia Fraser and DJ Andrew Polychronopoulos, will perform live music during the show, with Olivia and the Creepy Crawlies entertaining VIP spectators during the pre-show.
Waller felt the opportunity gives the college  exposure, because Unbound will be seen by a new audience. "Some of them may not even realize Fanshawe has a fashion program," she said, and added people living in Toronto may just look at the schools in the area.
Unbound will take the stage August 14 at 7 p.m.