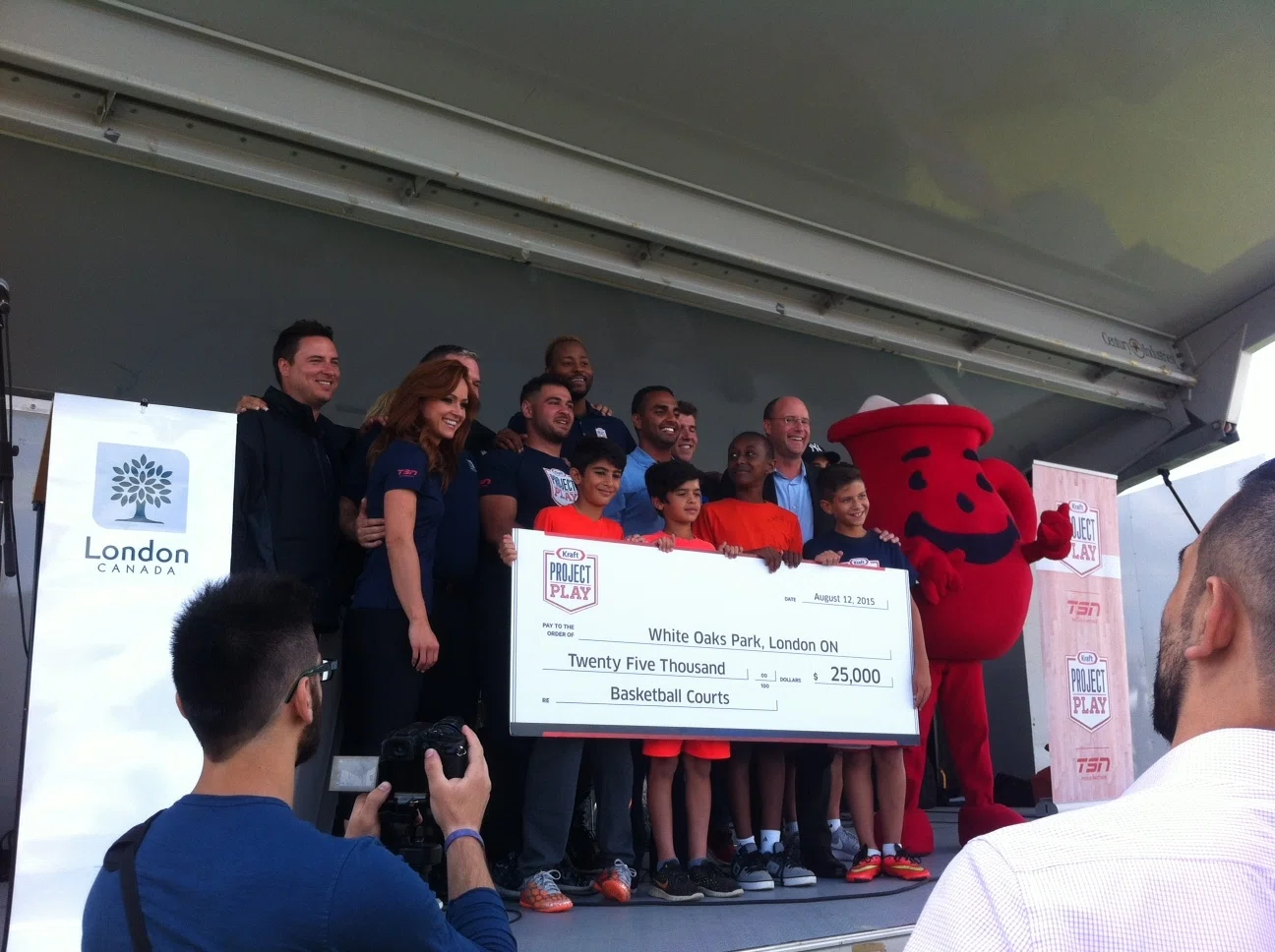 It was a day filled with play, music, food, and community. Families and friends gathered in White Oaks Park, a finalist in the Kraft Project Play contest, to celebrate the accomplishment. London Mayor Matt Brown and other citizens involved in the organization received the $25,000 cheque, which will repair the basketball court.
"We weren't expecting this much of a turnout," said Ferras Hayek, who nominated White Oaks Park in the contest, "We're beyond excited and beyond happy that this came out to be such a good event." He added the prize is just one step of many to create a community space for future generations living in the White Oaks area.
"This community seems to have kind of fallen apart a little bit with the fact they're bringing people out. We're hoping to bring the next generation back to our park, and keep them playing in our park and bringing them together, and not have so many differences, and not have them go all the way to the Fanshawe area to actually play basketball."
Growing up playing basketball on the court himself, he felt growing up playing in a park is beneficial, or just hanging out with friends more frequently instead of playing video games indoors. "They call them the technical generation, the technology generation, so bringing them back out to play basketball where we play, or even playing soccer and thing like that, just seeing them out there is not only great for the community but themselves as well."
Last year, Wadhah Baobaid held a basketball tournament for the park while he was on the London Youth Advisory Council, which raised $250. He also grew up with the White Oaks Park's basketball court, ever since his family moved to Canada in 2003.
"That's where I engaged people, that's where I learned English, that's where I learned to make friends, that's where I learned to socialize," Baobaid explained, "All these different skills that helped me and able me today to bring something back to the community." He added parks provide a community space for London's youth.
"They help to ensure that youth are always busy and occupied playing, expressing their talent, and also having a way to vent out. So by having that, we're attracting the youth, instead of them engaging to crime."
Londoners have their eye on the Kraft Project Play grand prize of $250,000. The winner will be selected based on the most number of votes. Voting will take place between August 17 and August 18th, which will occur on the contest's website. TSN's SportCentre evening broadcast will announce which park receives the award.