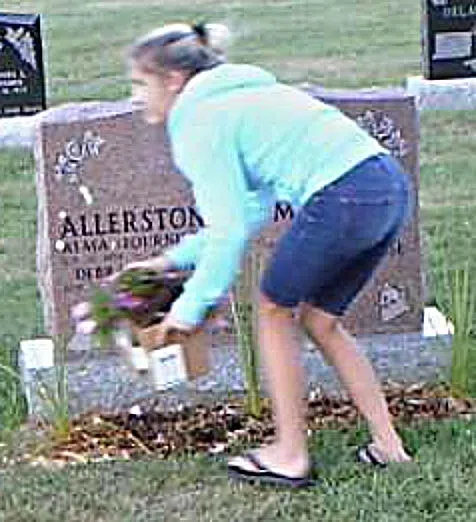 London Police and a family are looking for your help in identifying the suspect of several thefts at St. Peter's Cemetery.
Over the past three months, a female has targeted one grave site, stealing flowers and mementos.
Marg Medeiros' 86-year-old mother, Alma Allerston, passed away in April. After her mother was buried, the family spent time planting flowers and laying mementos at her resting place.
"My first reaction was well, maybe this happens at cemeteries? I looked around at other graves and I thought, people right next to me have so many flowers and so many statues that are untouched."
She says she started to think who might hate their family enough to do this. She then went through the family's history and realized there's no one they could think of who may hate them. She adds that followers have been ripped out of the ground 10-12 times. She also believes it could up to 16 if you count the mementos that were stolen as well.
Medeiros says she contacted the cemetery right away.
"They assured me it was personal and suggested that I put a camera in. I also spent as much time as I could at the cemetery to keep an eye out. You can only spend so much time when you're working full time. Luckily, we've had family and friends willing to keep an eye out too."
She says that the suspect managed to narrow it down to an hour and 15 minutes to rip the flowers out when Medeiros, friends and family we're not at the cemetery.
Medeiros has a message for the suspect.
"Two questions. Why? What will it take to stop? Please. Just stop, that's all I want."
Medeiros has described her mother as awesome and being her best friend.
"She lived in my house with my husband and my two boys. She's always been a part of my life, my best friend."
The female is described as Caucasian, in her 20's, approximately 5'5″, slim build, with dyed blonde hair and dark roots.
Anyone with information is asked to call London Police or Crime Stoppers.
Police are looking to identify this girl.
Police are looking to identify this girl.
Here's a photo of the flowers before being ripped out.
Here's a photo after the flowers were ripped out of the ground.