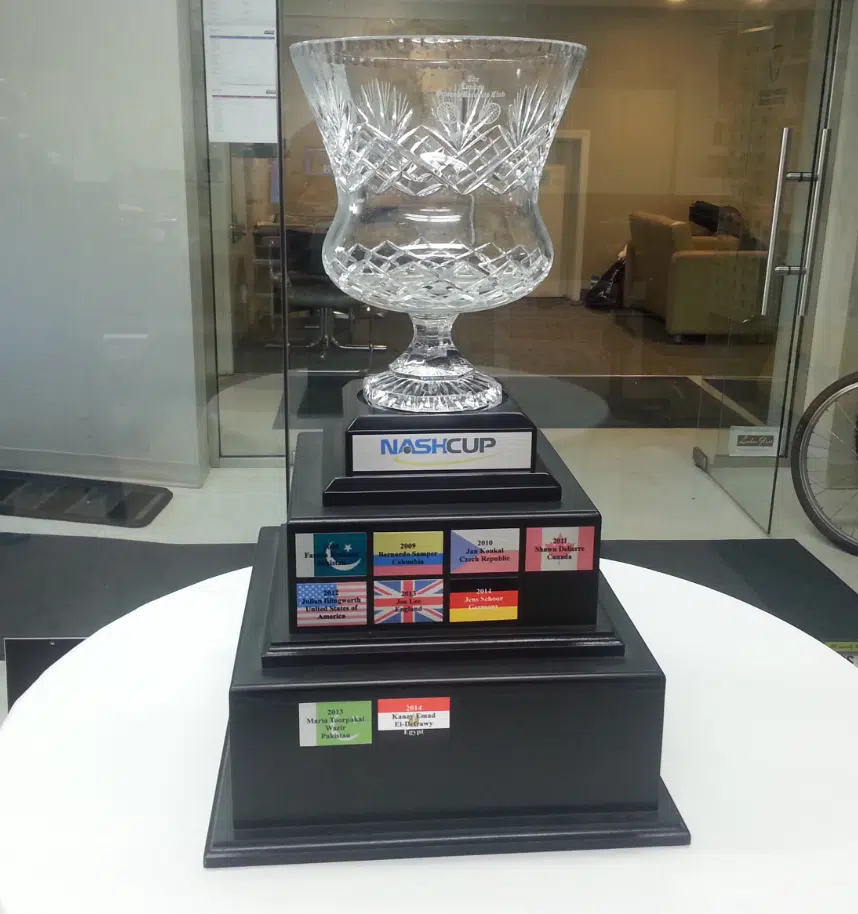 International squash stars are in London for the 2015 Nash cup.
The tournament, held down at the London Squash & Fitness Club draws some of the best players in the world from 17 different countries.
The men compete for a $15, 000 grand prize, and women for a purse of $5, 000.
It's the 8th addition of the squash tourney, which back in 2008, made the decision to include a professional draw as a means to gain more sponsors.
The tournament originally developed as an amateur competition in 2003.
Although squash may not be the sport of choice for most Canadians, the Nash cup is exemplary of how big the sport is on an international stage.
Jay Francis is the squash director for Nash 2015. After spending the last 18 years in Holland, Francis – originally from England – was brought over to Canada to help London's squash club organize the tournament.
"My love of squash started at about three-and-a-half, when my parents were both professionals," Francis said.
"You sort of get dragged along to the clubs," Francis chuckled, "but I loved the game, loved the sport – I loved other sports as well, but squash was what I wanted to do with the rest of my life."
Francis has been playing squash for 40 years, but despite his experience – he's amazed by the turnout that Nash seems to garner on a yearly basis.
One of the standouts on the women's side, is Maria Toorpakai Wazir – who hails originally from the tribal regions from Pakistan.
Pakistan is considered a hotbed for squash, and Wazir is Pakistan's greatest ever female player.
Her path to Canada is one of the most interesting stories you may ever hear.
"I ended up in squash accidentally," Wazir said.
"I am the only girl representing there (Pakistan), at an all-international level. So, when I moved to the city, I disguised as a boy and played for a few years."
"My first sport was weightlifting, but I loved squash – because squash is big in Pakistan, and many legendary squash players like world champions in the 80s and 90s were from there."
Wazir is the top ranked player in the women's draw, and 51st in the world and though she represents Pakistan – her heart is fond and thankful to the great white north.
"I love Canada," Wazir added. "It's a second home to me."
On the men's side, it appears to be anybody's tournament with 11 of 16 competitors all ranked in the top 100 players in the world.
Declan James hails from Nottingham, England, and he ranks 51st on the men's side.
"I was six years old, when my uncle took us to our local LegisCenter." James said.
"That's when I first played – so it started with him. Then with my cousin, who was a full-time player as well, so it was very much a family thing."
James has really enjoyed the surreal experience of squash taking him global.
"Just the travelling has been incredible, I'm here now competing (for Nash)," James added. "Before the summer I was in New Zealand, and Hong Kong – that was probably one of my favourite trips I've had."
One thing James does not seem low on is confidence, after being asked how he thinks he'll do, James grinned.
"I'm hoping to win," he exclaimed.
With the finals happening on Saturday evening, it will be interesting to see who comes out on top and lifts the mighty Nash Cup above their head in triumph.
No, Canada is not a squash mecca, by any stretch.
However, what Nash exemplifies is what impact Canada has on the international squash circuit.