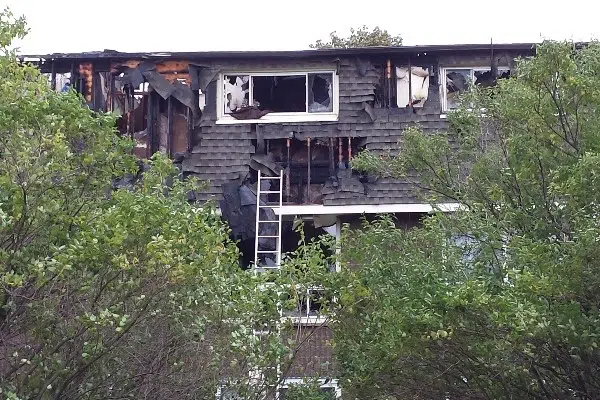 Will Graham, the owner of Neon Crab Tattoo and Piercing, said his wife started a Go Fund Me Campaign for a family who lost everything in a fire on Limberlost Road. About 12 people are left without their homes, including Graham's brother, Gary, and his wife Claire and their baby.
"When the fire broke out, they really had no idea, until somebody banged on their door to let them know that the building's on fire, and they barely had enough time to get themselves out, Claire didn't even have shoes."
Graham said the family is currently staying in with Claire's mother in her nearby home, as "they try to get their lives back together." He added the family didn't have insurance, and the only income was Gary's OSAP loans. "He's already up to his ears in student loans, and on top of that, thousands of dollars in textbooks, that these loans have been paying for have also been up in flames. They're in a tight spot."
However, he said there is "strong, supportive family network here in town, so they're not going to starve, they're not going to freeze, no one's living on the streets, we've taken care of all that. It's just taking care of everything that they've lost and we're trying to access aids and services that are available to them."
Graham added that Ward 7 Councillor Josh Morgan said the Salvation Army is currently collecting items, from furniture, to food, to money, to help all families get back on their feet.
Fire officials estimated over $1 million in damage during the Saturday blaze. About $2,000 has been raised for the family so far on Go Fund Me.
Photo courtesy of the Fire Tragedy Go Fund Me page