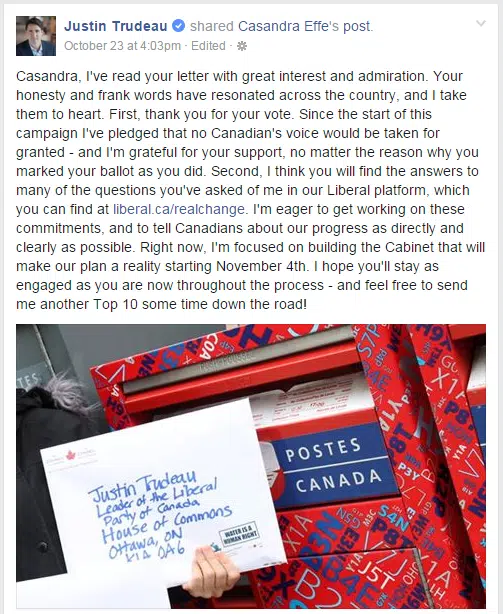 Prime minister-designate Justin Trudeau kicks off his time in office by answering a BC voter's letter that went viral on Facebook.
Cassandra Fletcher wrote a post outlining a list of top ten concerns for Justin Trudeau leading a Liberal majority government. Among her concerns, Fletcher advises Trudeau to support natural resources, science, and an unbiased public information forum.
She writes, "Protect our rare and natural resources and don't get caught in the jargon. Climate Change, global warming, carbon emissions… the jargon is divisive. There are certain decisions that clearly DO destroy this blue planet upon which we survive, and those that don't. I recognize the harvesting of our forests, minerals, metals and oil bring jobs and money to our country, but consider moderation, balance, and sustainable practices, instead of debating the validity of the "climate change" phrase."
Trudeau later responded to Fletcher from his official Facebook page. Highlights of his response include a renewed pledge not to take any Canadian voice for granted. He closes his response by encouraging Fletcher to "stay as engaged as you are now throughout the process – and feel free to send me another Top 10 some time down the road!"
After 12 candidates were chastised by their political parties or forced to withdraw from the recent election, there seems to be a focus on improving the way politicians interact with citizens through social media.
You can read Fletcher's original post here.