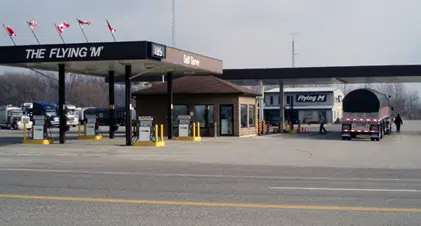 Police are looking for 3 suspects after an armed robbery at a truck stop on Colonel Talbot Road.
OPP say the armed robbery took place early Monday morning at the Flying M Truck Stop on Colonel Talbot Road.
Police received the call just after 5:30 a.m. Monday morning.
Three suspects walked into the store, and demanded cash and one of the men had a gun.
No shots were fired, but the person behind the counter did suffer minor injuries during the altercation.
The suspects fled immediately and were last seen driving a 'tan-coloured' SUV. There are no further descriptions that have been provided.
The investigation continues. Anyone with information is asked to contact Police or Crimestoppers.