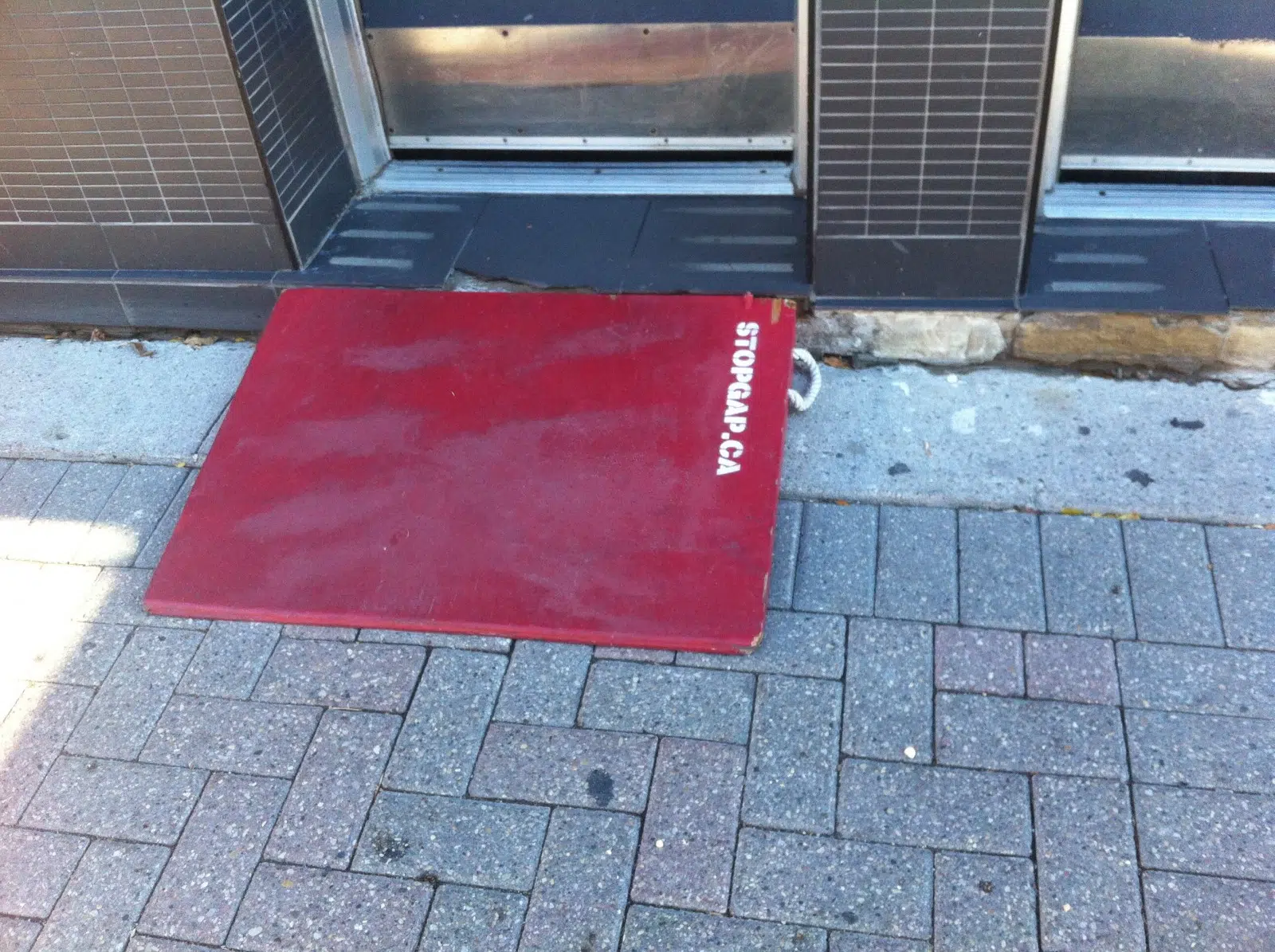 The Palace Theatre, Jordan Stewart, and Stobies Pizza are some of the 58 London businesses who received ramps from Stop Gap during the summer of 2015. These vibrant ramps are either stored inside the business, until a customer calls to request it when needed, or are on the sidewalks so people can use them anytime.
Carol Vandenberg, the co-owner of L.A. Mood Comics and Collectables, was the first person to receive the ramp.  She explained that although most businesses would get one in either June or July, she requested one for May, because of Free Comic Book Day.
"I knew that we would have hundreds of people coming to our store that day, and I knew that there would be people with carriages and people with disabilities who would need access, and this would make it a lot easier."
Vandenberg added the project opened her eyes towards accessibility needs, because everyone from people in wheelchairs, to parents with strollers, to people moving items into the shop, are thankful the ramp is always on the sidewalk. However, her only concern is what is going to happen with the ramp during the winter months.
"The sidewalks are so narrow, putting the ramp out in the winter time might be difficult because of the sidewalk snowplow coming by," she explained, "Customers will have to call ahead so we can put it out for them."
Jeffery Preston, an advocate for people with disabilities and a Digital Marketing professor at Fanshawe College,  said one of the current issues with accessibility is every business has a different definition of wheelchair accessible.
He explained there have been times when people told them their business was not wheelchair accessible, although he could enter it without any trouble, because they didn't have a wheelchair accessible washroom. He added there was a Toronto restaurant where the employees said it was wheelchair accessible, but he found stairs leading to the entrance. The owner explained to him that they carry people in wheelchairs up and down the steps.
"My electric wheelchair is about 400 pounds with me in it, it's not something you can bump down a flight of stairs."
The StopGap foundation was founded in 2011 by Luke Anderson, who was frustrated with accessibility barriers for people in wheelchairs. The project goes along with the Accessibility for Ontarians with Disabilities Act (AODA), which said the province must be fully accessible by 2025.