VegFest London was held at the Western Fair District on November 14th, and filled the building with food and drink vendors, product and service vendors, community groups, and animal rescue groups. VegFest is a non-profit, volunteer run organization focused on vegetarian and vegan living as well as health and wellness.
Singer, writer, and model Rose Cora Perry was the event M.C. for the second year in a row, and a member of the organizing committee. She explains why it is an important event for her.
"The reason that I wanted to get involved is because I regularly lend my time and my talents to various not for profit and community events, and as a proud vegan seven years going strong, obviously I consider it a cause very near and dear to my heart and I'm more than happy to participate, and lend what I can and offer what I can to support the cause."
One sponsor of the event is the Boombox Bakeshop. Company owner Alexandra Connon says why she participated in the event.
"We opened last year the day this event happened, and we didn't get to participate. We are extremely excited to participate this year because we're a vegan bake shop, and this is VegFest, and we wanted to support this festival."
She added that the event is good for exposure, and she hopes to participate again in years to come.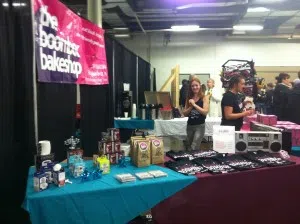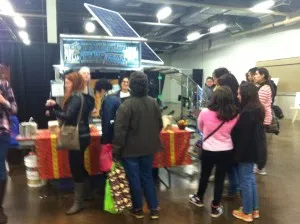 Other vendors at the event explained what they are all about, and why they attended the event.
The Root Cellar had a booth, and they are a part of On The Move Organics, which delivers organic produce to homes. Thy are also involved with the London Brewing Co-Op and produce vegan beers. They use ethically sourced, organic produce on their restaurant menu and are hoping to show people that you can eat local food even if you can't personally make it out to a farm.
Farm Boy grocery stores in London were also represented by their local marketing assistant, who emphasized the importance to the company of getting into the community to get their information out there and network with other local vendors. Florine Morrison, owner of Veg Out restaurant in London was present, and was impressed by the turnout and the extra exposure that the event gives her business.
Margaret Coons opened her company Nuts for Cheese back in May, and has been selling her cashew-based cheeses at the market since June. She ran a cooking demo at last year's event, and says that this year gave her business great exposure.
All in all the event was a greta success.
Some other VegFests are happening in Niagara in June and in Guelph in September of 2016.