The East Village Animal Hospital provided low cost rabies vaccines at the Ark Aid Street Mission in London's East Village. The clinic is one example of how the non-for-profit, volunteer based organization makes sure all pet owners have access to vet care.
Laurie Ristmae, hospital manager, said providing vet care helps more than just the pet owners. "It certainly helps with their self-esteem and self confidence in things that they are doing. It also benefits their neighbours, folks on the street as animals are walking past," she said.
"You hope not, but if there ever was a bite or a scratch in the future, at least you know there are some rabies vaccinations on board there."
She said the average cost of rabies shots depends on the clinic, but can range from $50-100.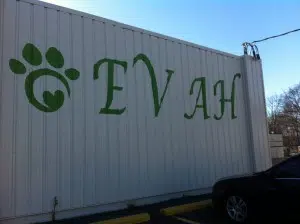 Along with rabies shots, Ristmae said parasite control is important for those living with and around the pet owner. "The cycle can't be stopped without some pretty intensive treatment," she said of lice.
"If you have a residence, and you are renting, you then have a problem with your landlord and with your other tenants. Children in that environment are going to school with bites all over their legs."
The East Village Animal Hospital also works with A.R.F. Ontario , where they travel to the provinces's First Nations communities to host pet wellness days, helping those without accessible vet care.
Photo of puppy courtesy of Laurie Ristmae