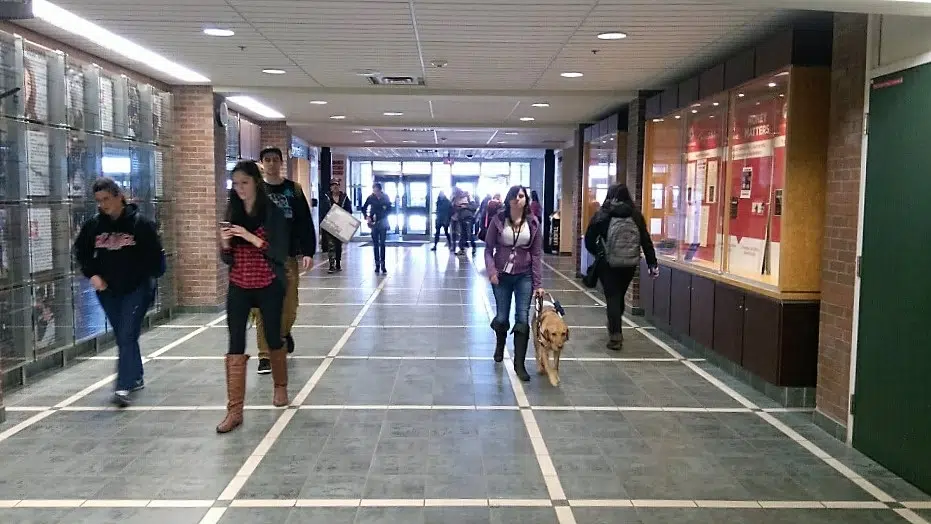 When it goes to the services students in the LGBT community need, there's still a long way to go to make our post-secondary institutions a good environment for the students in campus.
Fanshawe College tries to provide some of the services, but some students believe there's more to be done.
The college provides three main services:
counselling services

Spectrum Fanshawe, a student based club for open discussions about issues in the LGBT community as well as a safe space.

Gender neutral washrooms.
Chrystine Robinson  is a member of the LGBT community in Fanshawe and said one of the main problems is the lack of gender neutral washrooms. "Honestly, it's ridiculous. We are a large enough facility. We have an active queer community in Fanshawe." Said Robinson when asked about how she felt about the low number of these washrooms, "There's a lot of members [in the community] in the trans – spectrum, and not doing an accommodation like that? Because even if you are not sure, it's a great way to go into a place and feel safe if you're not feeling like going through the binary aspect."
This service is a must for the community, since making students choose a washroom can be traumatizing according to Robinson.  "For trans individuals is not always clear cut whether if they are male or female." Said Robinson, "For them forcing them to choose a bathroom, it's forcing them to be inaccurate to their identity and forcing them into something they aren't."
Candace Lawrence from accessibility services at the college said they are working to improve this problem. "The new campus in downtown will have gender neutral washrooms, as well as the new wellness center." Said Lawrence.
When it goes to Western University, the spectrum of services is wider.
The university provides:
Ally Western: a group that trains other groups in campus to be inclusive, and celebrate the campus diversity.

Pride Western: the LGBT community network on campus.

The pride library: a collection of LGBTQ literature.

Counselling services

LGBT oriented health services

Multiple gender neutral washrooms.
Vice-President Internal Alex Benack said the university is doing pretty well, but they are still aware of some of the things that need to be improve. "One of the problems students have brought up is that it should be more queer specific councilors, or queer specific services.
It's important to recognize these services as necessary for the students, and in no way they should be considered special accommodations. There's still work to be done, but both institutions are doing their best to make their campuses a welcoming space to all their students.