The First Nations Centre at Fanshawe College is participating in the REDress Project. Chris Hannah, a student success advisor, said the project was created by Jamie White, a Metis woman from Manitoba.
"It's an art project that talks about the missing and murdered Indigenous women," Hannah explains "They hang a red dress as a show of absence. Where there should be a woman in that dress, there isn't."
As students walk in F-Hallway in between classes, they will see a total of 13 red dresses overhead. Between 10 a.m. and 2 p.m. until December 4, representatives from the First Nations Centre will be there to talk about the project.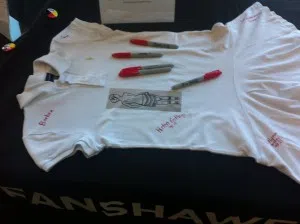 Hannah also has a white dress on one of the tables, where people will write the names of important women in their lives with red permanent marker. The table has letters from Amnesty International to be sent to Prime Minister Justin Trudeau, asking him to take action.
"The inquiry doesn't mean anything if we don't actually make changes in the country."
She had a list of the names of the missing and murdered Indigenous women all across Canada.
"Some of them are local. Some of them attended school here at Fanshawe. While we don't have 13 women from this community who are missing, 13 is a number in Indigenous culture that is representative of all women, and that all women are connected to the moon," she explains, adding it also represents the number of cycles for the moon.
She adds that it's an ongoing issue, but gained more attention from the RCMP report about it. The dresses will also be seen at the memorial service for the 14 women killed in the Ècole Polytechnie du Montreal massacre in 1989.
"It's not just an Indigenous issue. It's a women's issue, and it's a Canadian issue, and we really wanted to tie them together."
The service will take place December 4, with the National Day of Remembrance for Violence Against Women on December 6.