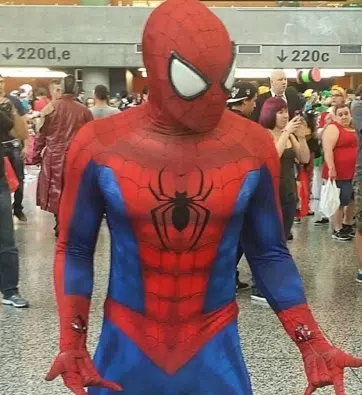 How would you react if you came face-to-face with a superhero in your home town? Well that could possibly be the case in London, as we have a London Spiderman roaming our streets with the mission of spreading happiness and joy.
The self-appointed Peter Parker's Instagram hosts more than 10,000 followers, posting images of his initiatives around the city. His bio states, "A Spiderman for the people! Especially the kids… Our greatest resource. The Mission: Spread love….thwip thwip". Click the photo below to see a photo diary of his initiatives:
But who is the London Spiderman? Well… that we still do not know, but when interviewed Peter Parker stated that this superhero journey began when he was in California.
When passing a children's cancer ward at a California hospital he saw window washers descending down the building in costume, when the children saw the superhero window washers, this made them happy and gave them hope and joy.
The London Spiderman does hospital visits around the London area, in home visits and also parties.
When asked what he gains out of doing this, he stated his intentions are not to gain anything but if he had to pick it would be a sense of purpose and spreading joy.
But why Spiderman and not a different superhero you may ask? Well that is because Spiderman was best to help with his anonymity (due to the full body costume), and also the story of Peter Parker (a high school student bullied often but secretly saving the lives of many) is a story lots of children can relate to.
You can listen to some of XFM's interview below: