Every year the international centre of Fanshawe College holds a week of events to celebrate and learn about the different cultures present at the school. Music, food, and fashion from all around the world are presented, as well as some traditional Canadian customs.
One of the bigger events of the week was the multicultural fashion show, where I spoke with one of the organizers.
Multicultural Fashion Show
Along with the fashion show were tables set up featuring traditional toys and other goods from Russia, the Ukraine, the Philippines, and Ghana as well as clothes. Russian marketing management student Anastasia brought along some items such as a Kokoshnik, which is a traditional Russian head dress worn by women for special occasions, and a set of Matryoshka, or Russian nesting dolls. She was participating in the event because she wanted to spread the Russian culture in Canada, as well as show their hospitality. She feels that events like the fashion show are very important.
"It's important because it makes all people closer to each other, and making new friends by explaining different cultures, and sharing your national things with others. It's helping to make friends around the world."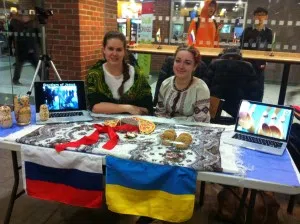 Other events throughout the week included a traditional Canadian style breakfast including, pancakes, bacon, and sausage, as well as an evening of skating in Victoria park. Ying Chong is an international student from China who decided to go and try skating for the very first time.
"I really appreciate [the international centre] finding such a chance for us to enjoy this kind of event… as international students, we have a lot of things to do, and I don't think we have a lot of free time to find these things."
He added that living here in London is very different from life in his home town.
Hopefully Fanshawe's international students will continue to represent their own cultures proudly as well as experience all that Canada has to offer them.