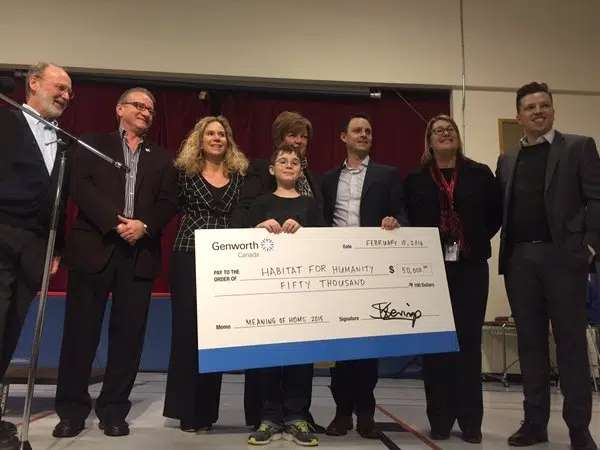 The fame and glory is all new to 11-year old John Latosinsky and the school community of Lester B. Pearson School for the Arts is buzzing with glee.
The grade six student applied for a national writing competition and found out he won on February 3rd.
Earlier, he read his masterpiece called 'The Meaning of Home' to the school community and executives from Habitat For Humanity in the school gym. After his speech, he received a thunderous applause from the students and staff from the school before and after he read his poem.
He also helped present a $50,000 cheque to the Habitat For Humanity executives.
He beat out 5,000 other writers across the country.
His poem reflects on the teachings for children to understand that they can make a difference in the world.
"I was really excited but I was a bit more shocked then I was excited because I thought I was being optimistic and thought I would at least get a runner-up prize," says the 11-year old Latosinsky. "There's a lot of buzzing going around my house and in the school lately."
"First I came up with what home means to me and what it means to other people, and then I thought about the other people who don't have a home and what it's like for them and how sad it is for them," he says.
Latosinsky says that his inspiration is none other than the rhyming genius, Dr. Seuss, "I got inspiration from Dr. Seuss because I liked the rhyming in the poem and there are many similarities between my poem and his. They both rhyme."
He was also presented with an iPad and $1,000 for the school community.