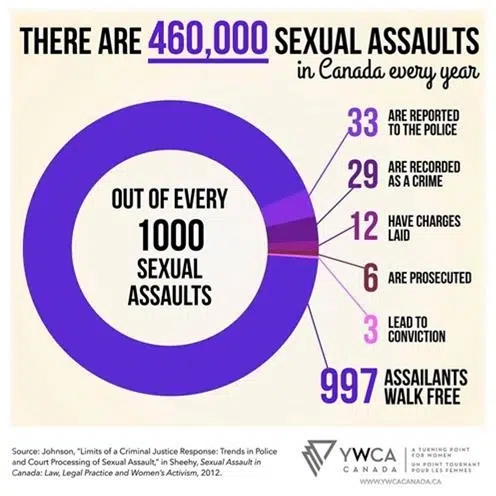 The Ghomeshi trial has brought to some light the challenges of prosecuting sexual assault in the justice system.
According to YWCA Canada, from every thousand sexual assaults, only 33 will be reported to police and from there, only three will end up in convictions.
AnnaLisse Trudell from London's Sexual Assault Centre thinks the main problem is the way these cases are handled and reported by the court and the media (if it's a high profile case).
"Sexual assault is an spectrum. It can go from street harassment, or say slapping someone's butt, up to the point of rape," said Trudell, "The problem is this ideas we've been taught to believe in what rape should look like."
Trudell said this are called rape myths, and some include:
It has to be a stranger in a black alley, dark at night.
You should be physically assaulted in some way and then be able to go right the way to a hospital to have a rape kit done.
You should be crying and be very emotionally disrupted.
 You should be able to tell you story in a consistent way to several police officers, and the court and be able to be consistent.
Cut any ties with the person you accuse of assaulting you.
Trudell said "We know 82% of the time, sexual assaults are done by someone you are in a relationship with already. Someone that we know in some way. Whether is a friend, or a boyfriend, or whomever," She continued, "So that make a lot more complicated to just end the relationship after that assault."
She also mentions other problem is the way accusers are questioned, "They tried to discredit victim, so they say 'well you just like sex' or 'Hey! You're still in a relationship with me' or 'Hey! you sent me a sext two weeks later'. That's the strategy that a lot of defense lawyers use, in a court of law, around sexual assault."
"If you put all those questions in the context of stealing, they make no sense," Trudell pointed, "Let's say my purse was stolen and I was in the stand in a courtroom, and the defense attorney was asking me the following question":
Why were you walking late at night alone? Isn't that a dangerous activity?
Why will your carry money in your purse? Why didn't you leave your money at home?
Why do you have a purse that's yellow? Isn't that drawing attention?
Why didn't you put up a fight?
"All of those questions seem ridiculous because a victim is someone that suffered something that is unwanted," Trudell concluded.
If you or someone you know has been victim of sexual assault, Trudell invites you to reach out to you local sexual assault centre, "We believe victims and survivors.We believe their stories. We are here to present options."
You can get contact the Sexual Assault Centre London at their website, or any of their social media.