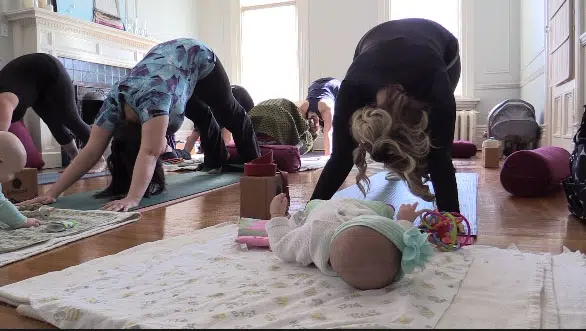 Getting pregnant doesn't have to mean, put your life on light for eight or nine months, you can still get active and one option is yoga.
Yes, the popular fitness and spiritual trend is extending to expecting moms and new mothers.
Yoga trainer at Rebirth Wellness Centre in London ON, Nicole Brown explains how prenatal yoga is beneficial for moms to be.
"Number one, it helps the mother stay fit. And with her changing body… be connected to your growing baby and belly and be connected to other Mamas who are going through the same things."
Ella is a regular at Rebirth, she enjoyed the prenatal class and shortly after her son's birth she came back for postnatal.
"When he was about three weeks we came back and started doing some mom and baby stuff. He seems to like it, so we come whether I seem to want to or not," She adds, "It's a place to feel safe and there's literally no judgement and all really supportive. It's just a nice community of other moms."
Postnatal Yoga is a great way to get back into shape, says Brown, "Your body isn't exactly the way it was, prior to becoming pregnant. So, you have to work at getting back that level of fitness you're comfortable with. "
Adding, "It's a lot different than exercising without a baby but, it's a lot of fun. It's nice to be connected to your baby, share lots of kisses and just share some time with your new person; who's connected at your hip all the time anyway.
Yoga originated in India and has been practiced for about 5,000 years, according to WWW.YogaBasics.com.
Poll
Would you do prenatal or postnatal yoga?
Poll closed: Apr. 21, 2016 @ 12:00 AM