An update was given on The Workplace Diversity and Inclusion Plan at the March 1st city council meeting. City manager Art Zuidema introduced what he calls a 'three-pronged approach', which begins with adding more human resources staff to speed up current initiatives in their workplace, then adds a position to address immigration support in the community, and later involves getting more community engagement. He says this approach is in response to the concerns of council and community members alike.
"Council members were concerned about whether our organization is as diverse as the London community is, and we also heard some concern that there is a need perhaps in the community for us to reach out in terms of issues of diversity."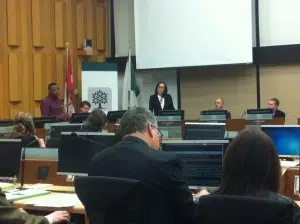 Ward three councilor Mo Salih feels that while this is a step in the right direction, there is still more work to do.
"I think that as we're moving along now the city manager is going to be having a conversation, and doing some outreach, and I think it's important to have that conversation and have everybody be involved and all the stake holders share their perspective."
It was mainly the first 'prong' of Zuidema's approach that councilor Salih disagreed with, but the other two parts passed unanimously.
Zuidma explained the third prong of community engagement:
One hundred thousand dollars has been has been sourced for this enhancement as the city's multi year budget talks come to a close this week.