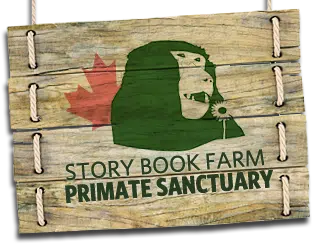 Story Book Farm Primate Sanctuary is home to the infamous Darwin the fashionable Ikea Monkey who was made famous when he escaped his car and ran into a North York Ikea looking for his owner.
Animal Rescue was called and then Darwin was transferred to the sanctuary, where he currently resides.
Kim Meean, the onsite care manager at Story Book, tells us that, "he was really dependant on his former owner, and then we transitioned him through to be an independent little guy now."
Watch the video below to get more information about the monkeys:
Though both Pockets and Darwin led the sanctuary to have some fame, this does not necessarily mean an increase in volunteers.
Lauren Civil is a four year volunteer at the sanctuary tells us that if you do volunteer it is, "a lot of picking up monkey poop, prepping food for them, they get a fresh meal every day, making sure they have enrichment toys, things to keep their minds occupied, we hide food in different containers they have  to search through to find nice treats and lots more."
Listen to the full interview below: