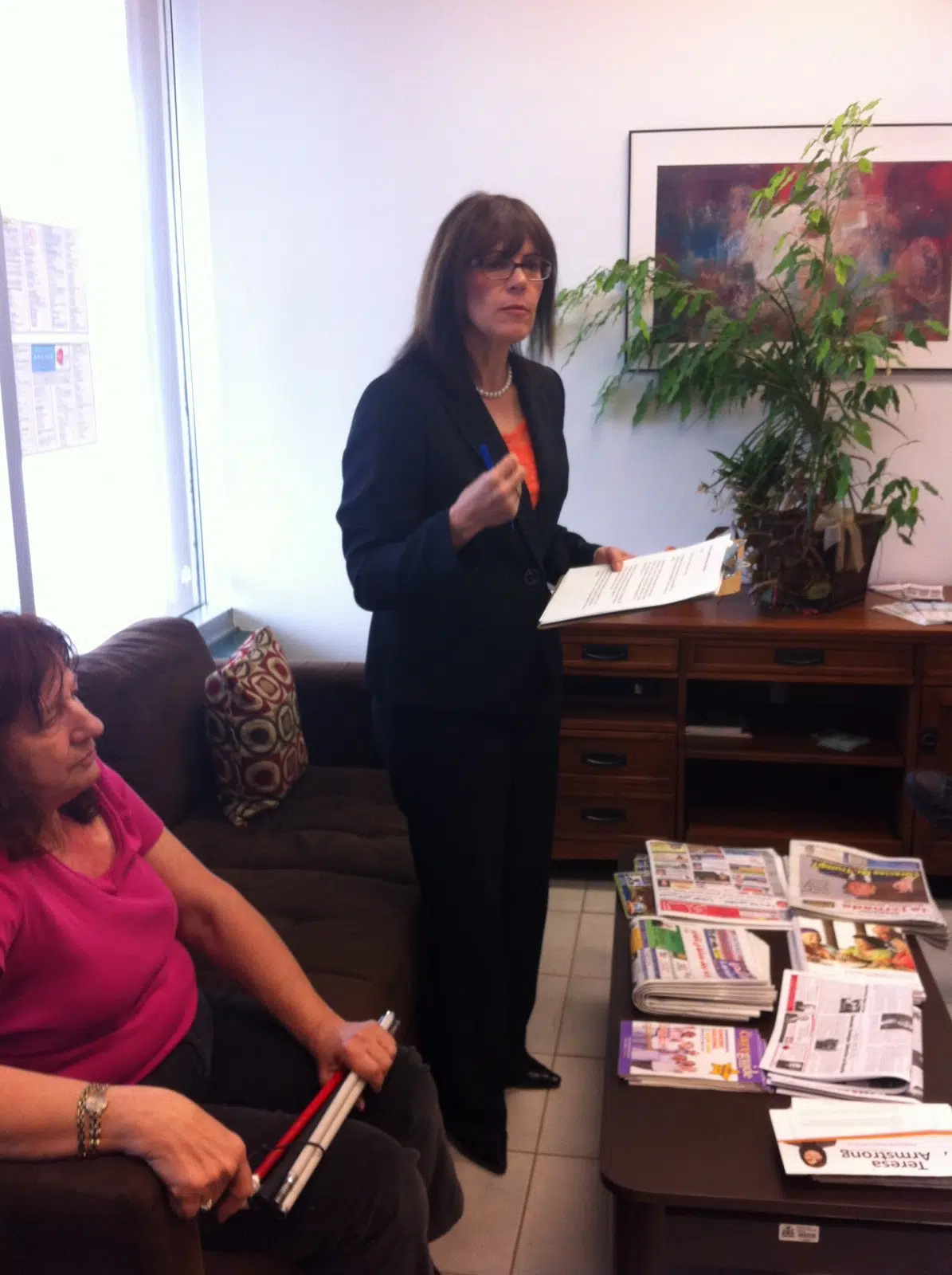 London-Fanshawe MPP and Seniors' Affairs Critic, Teresa Armstrong, is concerned over the Ontario Liberal Government's proposal to increase the annual deductible on prescription medication for seniors who have an income of more than $19, 300. The budget plan outlines that the Ontario Drug Benefit Program's deductible will rise from $100 to $170, beginning on August 1st. Co-payments will also increase from $6.11 to $7.11.
"One in three Ontarians who are seniors require 10 or more medication prescriptions to stay healthy, independent and out of the hospital," Armstrong explains, "Making it more expensive for seniors to pay their drugs will force many to redirect the money that they need for other basics." She listed clothing, food, transportation and hydro bills as some of the other expenses.
Senior citizens were also at her office, speaking out against the costs. Augusto "Gus" Nogueira, 69, does not take prescription medication himself, but says that he sees people struggling. He saw the challenges with his mother up until her death a year and a half ago.
"We struggled, and if she didn't have a little bit of savings, I don't know what would have happened to her. Because the government wasn't willing to do a lot of helping," he says, "You can't take a 70 year old or 80 year old and say 'Go out and get a job'. That's just not possible. No one is going to want to hire them, even if they are willing to work."
Carolynne Pratt, 70, has to work one day a week to take care of her home. She predicts that she will have to pay about $35 extra a month for her medications, with the proposed increases. Pratt says that her brother-in-law from Woodstock was hit with the impact of the current cost of prescription drugs.
"He had absolutely no money. All his spending money, after the retirement home took theirs, was spent on medication. He didn't even have enough for a haircut or a chocolate bar, and that is very sad," she says.
Dan Procop, Chair of the London-St. Thomas Chapter of CARP, says the organization comes up with a list of the 10 most important issues concerning seniors. He says that six of them were medical related and that out of those issues, universal pharmacare was the second most important issue to them. "We will continue to advocate on behalf of all seniors."
Armstrong also acknowledged that seniors are a generation full of pride. "They're proud for the work they've done. They don't want to ask for help, but we need to make sure that they're here saying 'You need to help us by not increasing our drugs by $70 a month, because that's not going to work.'"
The politician will meet with senior citizens and their families on March 18 at the OPSEU Hall at 1 p.m., to address the issue publicly.