Mayor Matt Brown received a report from his advisory panel on poverty yesterday at city hall, and gave a press conference with panel members emphasizing the goals of ending the stigma on people living in poverty and ending poverty in London within a generation. The advisory panel's report contains a hundred and twelve recommendations addressing areas such as housing, income, and homelessness prevention, among others.
Mayor Brown began his speech with a story from when he taught high school about a student who he didn't connect with at the beginning of the school year.
"As September rolled on into October, the student said to me, "Mr. Brown, I can't wait for October."…I approached him with my views, and I said, "What is it you're looking forward to? Is it a video game, is there a movie coming out that you're looking forward to seeing?" "
And in what he calls a defining moment, the student told him that he was hungry, and October meant his family got to go back to the food bank. He went on to say that he ran into that student a couple of years ago and found out that he is successful and painting and drywall.
"We can break the cycle of poverty. This young person did it on his own, but if we can create some scaffolding, and some supports, this is an example that we can see over and over again over the next generation."
He also focused on how poverty effects the entire community.
"Ending poverty isn't just about helping our most vulnerable. We know that poverty effects all of us. There are economic, there are social, and there are even spiritual implications for our entire community and addressing this burden will help us as a community to realize our full potential."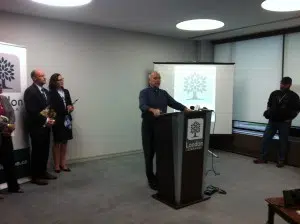 One member of the panel who spoke at the conference was Glen Pearson, co-director of the London Food Bank. He emphasized the point that the panel is only a small part of an on going battle in the community.
"This is our job as a community. This is a narrative – all we were as a panel was a chapter in that book. It was going on long before we got involved, it will be going on long after we're involved. Our part was, in that chapter, to draw all the people together to focus on the characters."
He added that he wants the community to know that this is their story, and not the panel's. The focus should be on those living in poverty, and "living with the shame of it."
Co-chair of the advisory panel, Dr. Chris Mackie also spoke.
At the mayor's request, the panel will present their report to city council for endorsement on April 18th the strategic priorities and policy committee meeting.