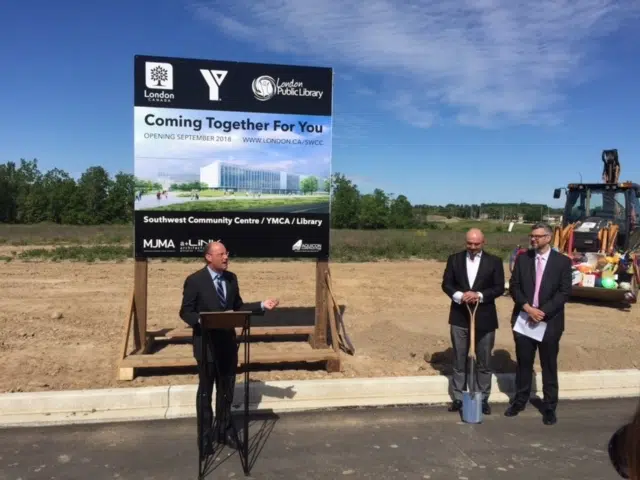 At $55-million the new Southwest Community Centre, which includes a YMCA and Library, is the largest municipal building investment since the Budweiser Gardens.
The two story building also offers a double pad arena, indoor pool and gymnasium, multipurpose rooms, community kitchen, and Service London counter,  all effectively placed together in a sustainable design.
It is expected to be a "one stop shop for families." said Mayor Matt Brown.
"When we walk through this building it's my sense that we'll almost feel like we're in a park setting, …when you see green design like this, this is something that I think we will see in London on a regular basis moving forward." he said.
The mammoth community centre is a bold, joint venture, between the City of London, YMCA of Western Ontario, and London Public Library.
Ted Watson is the lead Architect on the project and said "while you won't see solar panels, and windmills on the top of the building, it's all designed to conserve energy, deflecting solar heat in the summer, and retaining it in the winter…therefore making it a cost effective building, that will stand the test of time."
Although the future iconic space is large in scale, Watson, worked with clients to create small personal spaces, for people to enjoy and feel comfortable in.
A large project such as this, needed a sufficient amount of land to incorporate all of the intricate details, which was donated by Ali Soufan of York Developments.
The process for the project started a little over 6 years ago, and he expects this to become the "premier recreational facility in the city, if not the province."
"I feel that Londons been very good to our family and our business and this was the biggest, or greatest donation that we could see fit."
The location for the complex allows it to be the focal point of three major communities, Westmount, Byron, and Lambeth, an area that is expected to be the largest "growth node" for London over the twenty years.
Construction will begin this summer and is scheduled to be completed in September of 2018.