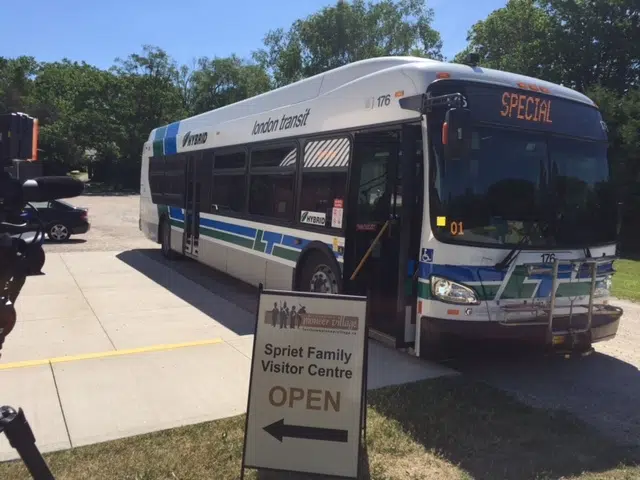 Tourism London, in collaboration with the London Transit Service, Upper Thames River Conservation Authority and the Fanshawe Pioneer Village announced London's newest seasonal transit transit route "The Fanshawe Getaway".The new route will offer weekend and statutory holiday service to the Fanshawe Pioneer Village and the Fanshawe Conservation area from July 1, 2016 to October 2, 2016.
Executive Director and Curator at the Fanshawe Pioneer Village, Shanna Dunlop, says that they had a lot of feedback from the community, requesting accessibility improvements to the area.
"We knew that there was a need for a public transit initiative, with Tourism London we approached the London Transit Commission and they just welcomed the initiative and they have made all of this possible" she said.
"With this pilot program the Pioneer Village has taken an important first step towards inclusion and ensuring that those who rely on public transit have a means to visit the facility".
Phil Squire is a City Councillor for Ward 6, and is also a member of the London Transit commission who says this a hidden gem.

"In terms of the park itself, the Pioneer Village, and I think all we're doing now is we're saying look Londoners, we're putting our money where our mouth is.  We're going to provide that transit to areas where you haven't been before, and I think it's great. It's a win, win for everybody" he said.
Sheryl Rooth is the Chair of the London Transit Commission and says this opens the door for thousands of families in London to enjoy all the great activities the Fanshawe Conservation area and Pioneer Village provides.
"Cycling and kayaking, boating, picnics, and all that great stuff on the lake. It's low cost, it's a quick ride to the conservation area and its accessible for everybody. Even the buses are wheelchair accessible, so there's really no limitations" she said.
Rooth adds that as a mom with young challenge and limited access to car it was challenge to access the facility, making this partnership an exciting one for all community members
Operational costs will be split between the London Transit Commission and a partnership that will initially include Tourism London,  The Fanshawe Pioneer Village and the Upper Thames River Conservation Authority.
Partners plan to seek additional corporate and community partners to offset costs and assist in further marketing the service to Londoners.
More information on the "Fanshawe Getaway" bus schedule can be found  here.